Publish date:
Ashley Graham continues to pose nude in the name of fashion: 'I hoped that everybody would see the art that is in it'
This story was written by Kaitlyn Frey and originally appeared on People.com. 
Ashley Graham isn't afraid to strip down and show the world everything — and we mean everything — in the name of fashion. Last week, the 29-year-old model and body positive activist shared shots from her unedited booty-baring nude photoshoot for V magazine, proudly displaying her cellulite, nipples and backside to the world in her first nude shoot ever. And now that she's gone there, it doesn't look like Ashley is backing off from posing au naturale any time soon.
Next up, a shoot with LOVE magazine. This morning, makeup artist Hugo Vanngo shared a behind-the-scenes sneak peek at the model posing seductively with nothing but a pink trench coat draped over her shoulders. The star sat completely nude, just covering her breasts with one arm and crossing her legs to hide her nether regions.
"It's a little nerve-wracking," Ashley told PeopleStyle of posing nude last week the launch of her latest Beyond by Ashley Graham seasonal collection with Dressbarn. "Because you're like, 'Oh, I'm actually naked and I am getting my picture taken by a really famous photographer, Mario Sorrenti. So, I know the pictures are going to be absolutely amazing."
Her goal with these shots is to prove that all bodies are beautiful. "I really hope that everybody sees the art that is in it," she says. "And they have. 'Cause it is art. It's beautiful, and I am so excited that it came out so beautifully."
Her husband, Justin Ervin, is incredibly supportive of this new turn in her career. "He loved it!" she said. "No, he wasn't scared at all. My husband's also in the arts, he's a director-cinematographer, so he has had his fair share of nude shoots as well. It is just what happens in the fashion industry. And so he just thinks I look great."
As for her family, Ashley credits her mom for teaching that having cellulite is a "nonissue." Meanwhile, her brother isn't so quick to check out her new direction. "My brother was like, 'Um, did you do a nude shoot?'" Ashley said. "And I'm like, 'Yeah.' And he goes, 'I don't want to open social media!'
Besides her slew of photo shoots, the star has even more to be excited about (when she's looking to be clothed, that is): her most recent collection of spring and summer-appropriate dresses for her size-inclusive Beyond by Ashley Graham line with Dressbarn – which range from size 4 to 24 and are made with every woman in mind.
"Any body type can wear my dresses," she told us. "My mom was begging for every single piece of the collection. She's a 51-year-old woman and housewife and she still is like, 'I want everything!'" This season, the model's designs include fun and flirty cold-shoulder floral print mini dresses, classic wrap dresses and bold bursts of color. To put it simply, the star makes sure there's something for everybody, so stock up on your Ashley-approved pieces for summer while you can.
BONUS: See all of Ashley's gorgeous photos from SI Swimsuit 2017!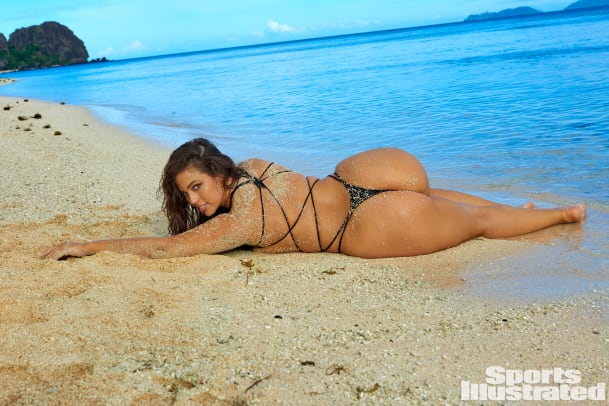 ​