Publish date:
Ashley Graham Says She 'Can Accomplish Anything' on a Good Hair Day
This post was written by Jillian Ruffo and originally appeared on People.com. 
Ashley Graham is busy expanding her modeling career into the beauty world, one brand at a time. After landing a spot as one of Revlon's newest spokeswomen, the supermodel and America's Next Top Model host has an exciting new gig in the beauty space: She's joining forces with haircare brand Pantene. In order to celebrate the partnership, the star shared some of her hair secrets with PeopleStyle.
Ashley, who describes her hair as "easy" and "versatile," says that when it comes to styling her strands, there are no limits.
"I can really do anything with my hair — it curls great, can be worn straight or pulled in a fun bun and overall it's easy to maintain," she tells PeopleStyle. "I wash my hair every three days. On a daily basis I throw a little texturizing spray at the ends and the middle. My hair is pretty easy and manageable so I don't use a ton of product daily, maybe just some hair spray before I leave the house."
One of her favorite products to use when she washes? "The Pantene Foam Conditioner," she says. "It's lightweight and leaves your hair feeling super moisturized. I'm telling you, try it out for yourself."
Like the rest of us, Ashley's strands can't defy the effects of mother nature — and rain is her hair's worst enemy.
"The best hair day is any day after I get my hair done at the salon. I always leave with my hair feeling soft, voluminous and fresh," she shares. "The worst hair day always involves being outside in bad humidity or the rain! My hair is already flat so the rain completely ruins it."
But on a good day, the star says her hair is a major source of empowerment. "Confidence comes from within, but having a great hair day definitely helps. My hair looks fabulous, I have a positive outlook on the day, and I know I can accomplish anything."
And Ashley hopes to bring that positivity to women everywhere, as Pantene teams up with her and ANTM to provide fans with their best hair days possible.
"I am excited to team up with a brand like Pantene that celebrates confident women through their America's Next Top Model #NextLevelHair sponsorship," she shared. "Strength comes from within, and Pantene gets that."
Pantene, known to inspire women through its Strong is Beautiful campaign, has joined forces with ANTM this season and is gifting the winner of the season with a grand prize of $100,000.
See all of Ashley's gorgeous photos from SI Swimsuit 2018: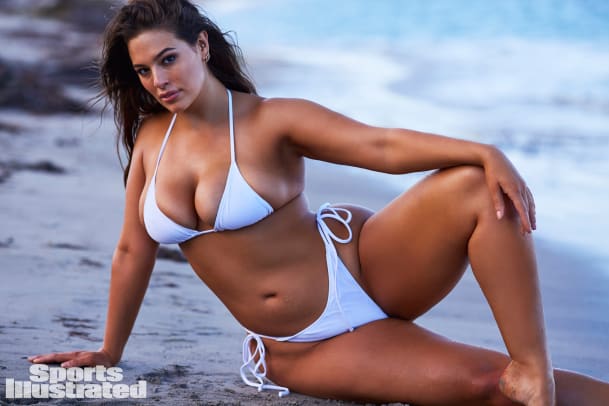 ​