Publish date:
Five things the Hot Clicks podcast taught us about Emily Ratajkowski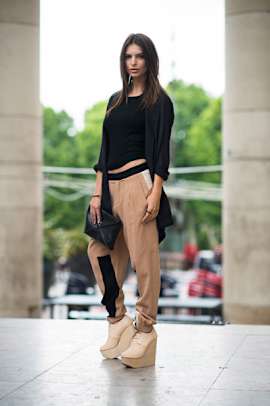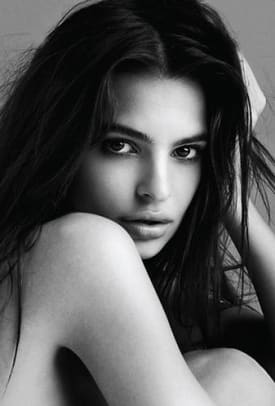 ********
The Summer of 2013 may soon be known as the Summer of Ratajkowski, as in Emily Ratajkowski, who stars in Robin Thicke's Blurred Lines video. The tune is the breakout hit of the summer and the (edited) video has already been viewed 114 million times on YouTube. Back in April, Emily came into the SI office for a 2014 SI Swimsuit Casting Call. You'll have to wait until February to find out if she'll grace the pages of the 50th anniversary issue. In the meantime, here are five things we learned about Emily from her appearance on SI.com's Hot Clicks Podcast.
EMILY HAS NO PROBLEM WITH NUDITY
Most people would have a problem dancing around completely naked in front of strangers. Emily isn't one of them. "It was a closed set. There was maybe five people and performers on set. At the same time, I don't really feel like nudity is something to be scared of or embarrassed of. It's a way to celebrate your body so I never felt self-conscious in general."
EMILY THINKS THE BLURRED LINES VIDEO ACTUALLY EMPOWERS WOMEN 
The video has been the subject of controversy and even called "rape-y" by one critic. Emily has a different take: "The video really puts the women in the power position in the situation because we're making eye contact with the camera. We're sort of rolling our eyes and ignoring Robin and TI and Pharrell. I think that sort of sarcasm and silliness is making fun of itself. The whole video is ridiculous  you have stuffed dogs and sausage links and crazy stuff. That's what the video was trying to convey - this Tumblr and Twitter vibe of tons and tons of images and the women are being playful and celebrating their bodies and being naked and dancing around."
EMILY CAN EAT. A LOT.
Like SI Swimsuit models Kate Upton, Nina Agdal and Heidi Klum, Emily appeared in a Carl's Jr. commercial. Her spot was for the Memphis BBQ Pulled Pork burger, which meant a lot of (messy) takes. No problem for Emily: "You don't have to eat the whole burger but you just kind of take a bite. I don't know how many bites I took -- I'd say at least 100. And that was for the BBQ sandwich so there was no way to avoid the BBQ sauce going through so by lunch I was completely full. It's good BBQ sauce though."
EMILY WOULD RATHER DANCE AROUND NAKED THAN TAKE 100 BITES OF A PULLED PORK BURGER
When asked which was a more challenging shoot, the Blurred Lines video or Carl's Jr. ad, Emily was firm with her answer: "I would definitely say the Carl's Jr. Because you're dancing around in Blurred Lines, it was pretty fun and high energy. Whereas the Carl's Jr., you're biting into a hamburger. It's kind of hot. You're doing that quite a few times. A lot more than anyone realizes so it's a little bit harder."
SHE REALLY WANTS TO BE IN SI SWIMSUIT
"I think there's a wonderful tradition. this year is the anniversary issue. It would be an honor to be included in that history of supermodels."