Publish date:
Gigi Hadid's selfless birthday request proves she has a heart of gold!
If you were looking for yet another reason to fall in love with two-time SI Swimsuit model Gigi Hadid, look no further. 
Leading up to her 20th birthday, Gigi is proving what we've known for so long—the ladies of SI Swimsuit have both inner AND outer beauty.
In a tweet on Sunday night, Gigi shared a photo of her first early birthday gift from musician boyfriend Cody Simpson. Not the gleaming new car or designer handbag you might expect, Gigi instead immediately sent the Internet into a frenzy with her humble nature and desire to help others.
In the tweet below, she revealed Cody had simply given her 10 McDonald's gift cards. Not to be mistaken with an obsession for fast food, she quickly explained that in lieu of presents, she's hoping to receive food gift cards to pass out to those in need of a meal in NYC. 
With approximately one out of every 152 New Yorkers facing life on the streets, Gigi, like so many others, likely passes people less fortunate than herself on a daily basis. So while you shouldn't expect to see Gigi chowing down on a Big Mac anytime soon (although she admittedly does love a good cheeseburger!), we fully expect her to rack up enough food gift cards to last her charitable mission for the next year and beyond! 
Thanks for making us so proud to call you part of the SI Swimsuit family, Gigi!
BONUS: See some of Gigi's best moments from SI Swimsuit 2015!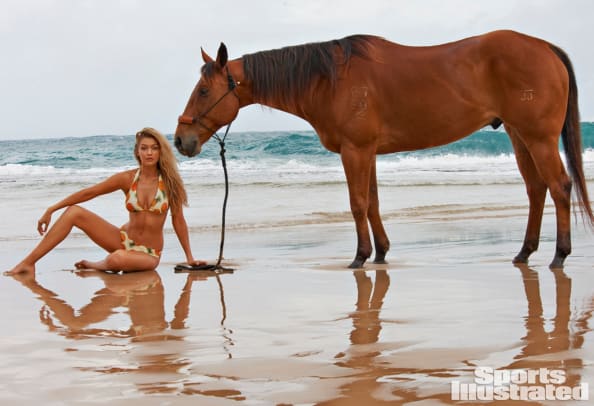 RELATED CONTENT
Gigi Hadid is named one of PEOPLE Mag's World's Most Beautiful Women
​