Publish date:
My Swim Week Diary: Mara Hoffman, Luli Fama and Wildfox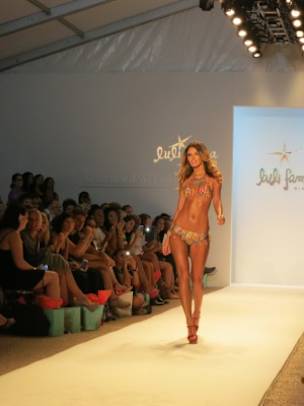 I LOVE fashion and I love fashion shows. I have had the privilege of attending some shows at New York Fashion Week, but have never had the opportunity to travel to Miami for the swim events! We were only able to attend a few due to our schedule and I wish we could have gone to more, but the ones we were able to make it to were exquisite!
On Saturday night, Janine and I attended the Mara Hoffman show at the Raleigh.
******
https://twitter.com/alyssaconroy/status/358775987539939330
******
Mara Hoffman is known for her eclectic prints and fabrics, that set her apart from other designers. The models hair was styled beautifully! They sported intricate braids with flowers and tassels...bohemian perfection! If only I could get my hair to look like that on a daily basis! The models wore minimal makeup to keep the focus on the swimwear, coverups, and dresses.  The collection was refreshing, yet stayed true to the Mara Hoffman aesthetic! Make sure you take a look at the video below to see the show in its entirety.
******
******
On Sunday night, we went to the Luli Fama & WILDFOX shows, both were equally amazing but had completely different vibes. Luli Fama was very sexy and sultry, while Wildfox was sexy yet playful! Luli Fama started the show with dancers, followed by more than 70 looks, separated into mini collections. As always with Luli Fama the bikinis were tiny and fabulous. So many bright colors, rhinestones, etc.  The models had amazing bodies and the swimsuits showed off their enviable figures. You don't believe me? Just check out my "instavideo" below and I will prove you wrong!  If I can get some of their workout secrets Miami Swim Week will be labeled a success in my book! Once the show was over Janine and I jumped in a cab and headed to the Soho Beach House where Wildfox was showing.
Prior to the start, Janine and I were discussing a guilty pleasure of mine "Kim & Kourtney Take Miami." Seconds later who walked in and sat three seats down from us, Kourtney Kardashian and Scott Disick. They immediately got swarmed by fans trying to take pictures but handled the attention like pros. After they were seated it was time for the show to begin! The first thing I noticed was the girls teased hair. I cannot imagine how long it took them to de-tangle and brush it out after the show, I shiver at the thought! The collection and styling was a throwback to the 1970's which I loved! Great one-pieces were featured with catchy phrases, as well as bikinis, sun hats, sunglasses and more! My absolute favorite suit from the shows was one from Wildfox that had the phrase "I'm really a mermaid" (image below). The girls looked like they were having so much fun on the runway, interacting with each other and the crowd! After the finale Janine and I opened the best perk of the night! The awesome gift bags from each show. What girl doesn't love bikinis and makeup! Around midnight we headed back to the hotel to catch up on beauty sleep before our last day in Miami!
Janine & I got a birds eye view of each show sitting in the front row, so I am able to share some great photos of the events! Check out the videos/photos below for a behind the scenes look!
******
******
https://twitter.com/alyssaconroy/statuses/359146949087215616
******