Publish date:
MUST SEE: Ronda Rousey explains why she gets 'scared of fighting'
When we invited Ronda Rousey to be one of our spectacular 2015 SI Swimsuit athletes, we knew we'd be putting the undefeated fighter out of her comfort zone. An undisputed UFC champion who feels most comfortable in the octagon, most certainly would feel nerves would when placed on a beach, in a bikini, in front of a large crew, to be photographed for our annual issue, right? 
Of course. But what we didn't expect was all of the candid moments we would experience with Ronda. From martial arts lessons to a true appreciation of photography, she wasn't afraid to open up to our crew and arguably put as much passion into creating beautiful photographs for our magazine as she does in the ring. But would you have expected any less from one perfectionist? We didn't either. 
So it was no surprise when the SI Swimsuit team asked Ronda if she was feeling nerves before her beach shoot, her honesty and frankness shone, like it always does, and made for one of Ronda's most vulnerable and real interviews in recent history. 
"I get nervous, but I don't get scared like fighting," Ronda said. "I get scared of fighting, because the worst that could happen is that I could die or get permanently maimed or become a quadriplegic for the rest of my life. Man, it's serious. And the worst thing that could happen here is what? Someone could say I look bad in a bikini? Ugh, oh no. Fighting puts everything into perspective."
For an athlete who can make even King James fearful of saying hello, it's refreshing to see a side of Ronda that we'd argue every single fighter in the sport can relate to. And even so, as Ronda prepares to take on Bethe Correia for the Women's Bantamweight Title at UFC 190, we have to believe that she's pushing any fear out of mind and is already in "Rowdy Ronda" mode as we speak. 
Be sure to tune into the pay-per-view fight at 10p.m. EST on Saturday, August 1st, to see Ronda work to defend her title once again! 
BONUS: See some of Ronda's best moments from SI Swimsuit 2015!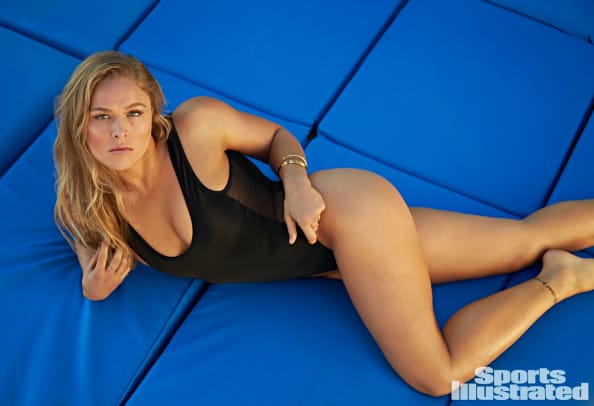 RELATED CONTENT
SI Swimsuit model Ronda Rousey defends UFC title in just 14 seconds!