It seems the Seminole Hard Rock Hotel & Casino Hollywood in Florida was created to break all the rules. The AAA Four Diamond–rated property not only has an entertainment venue capable of holding 7,000 people, 19 restaurants and 20 bars, but it's also the world's first guitar-shaped hotel. And did we mention some rooms are swim-up suites?
Yes, the hospitality brand really embraced its rock 'n' roll theme by going over the top with the design of its 2019 expansion. The aptly named Guitar Hotel resembles back-to-back guitars, complete with colorfully lit strings. More than being eye-catching, the hotel is an architectural masterpiece soaring 450 feet into the sky and featuring floor-to-ceiling glass windows. It also dazzles the skyline with a daily light show where the rainbow lights dance in sync with the orchestrated outdoor music.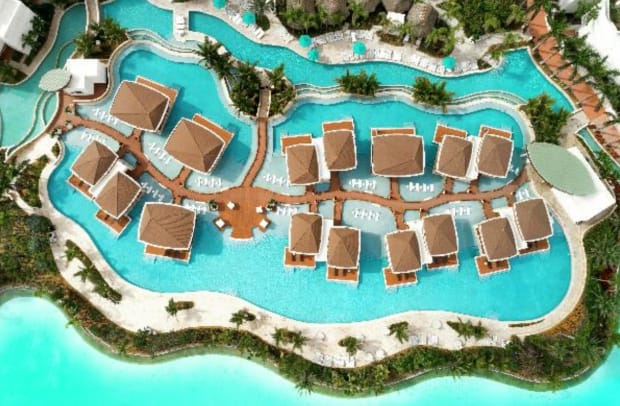 While the exterior is certainly bound to catch attention, the interior accommodations are equally unique. Or, should we say the interior/exterior ones? The seven-story Oasis Tower, which was also part of the expansion, has 168 guest rooms with several suites you can directly access from the pool.
These rare ground-floor rooms are perched directly on the private pool area so you can get up right from bed and take a dip in the pool. The sliding door opens to a personal patio and two loungers already partially submerged in the pool. Imagine not having to lug a day's worth of stuff down to the pool. Instead, you can enjoy a morning, afternoon and evening swim without ever leaving your room.
If overwater is more your thing, the hotel also has Bora-Bora-style villas situated over one of the many tropical-water areas. Each one comes with a personal plunge pool and butler service for the ultimate escape.
Even if you don't shack up in one of these stunning water-themed rooms, the public pool area is still something to write home about. There's a whopping 18 acres of water on-site, making up six pools (one of which is 13.5 acres) surrounded by waterfalls and palm trees and two white-sand beaches. Basically, the large water expanse is almost as long as three football fields.
Not surprisingly, this made for an ideal spot to shoot part of the Sports Illustrated Swimsuit 2021 issue. Stephanie Dana posed in front of the Guitar Hotel holding a guitar in a red cut-out one piece; Kelsey Merritt looked radiant stepping into one of the pools that looked more like Lake Como than Florida and Nyma Tang enjoyed dipping her toes in the sand.
Accommodations by:
Seminole Hard Rock Hotel & Casino Hollywood
1 Seminole Way, Hollywood, FL 33314
866-502-7529
seminolehardrockhollywood.com
1,271 rooms
Prices vary