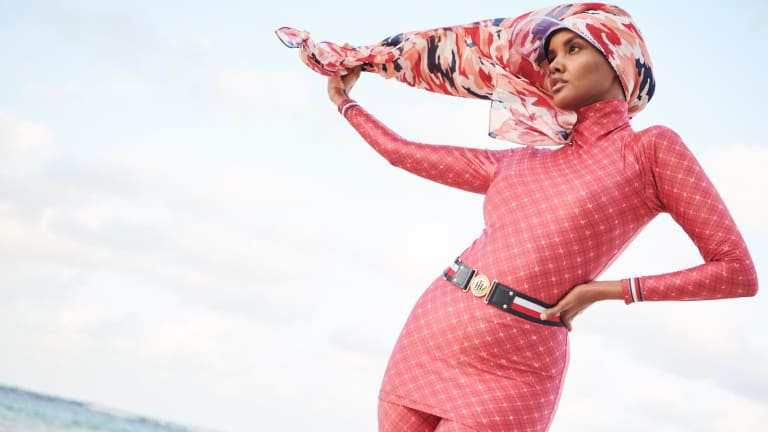 MODEL REVEAL: Halima Aden Is Back for a Second Year With SI Swimsuit!
Halima Aden returns for a second season with Sports Illustrated Swimsuit!
The one, the only, Halima Aden is BACK for her second year with Sports Illustrated Swimsuit!
Halima made history last year as the first model to wear a hijab and burkini on the pages of Sports Illustrated Swimsuit. Her appearance in the magazine was met with both intense critism and resounding praise, with some (predominately male) fans questioning her intentions in posing for the magazine.
"My choice, my decision to do the things that I've done has nothing to do with you boys and everything to do with us," Halima told SI reporter Chris Mannix last year. "You don't know what it's like to experience being kicked out of a pool or banned from a beach for wearing a burkini. I want girls to see, no matter what sometimes you are going to get backlash from your own community. But you shouldn't let that bother you. And really, the fact that in 2019 a swimsuit creates this much attention … I mean, why are women still being judged for what they wear?"
At the age of 19, Halima made headlines when she was the first woman to wear a hijab in the Miss Minnesota USA pageant (where she was a semi-finalist). She went on to sign with IMG models and not only became an incredibly successful international model, but a champion for the expansion of the traditional defintion of beauty.
From landing the cover of British Vogue to walking on New York Fashion Week runways, Halima has proved that there is a place for modest Muslim women in the fashion industry.
Here at SI Swimsuit, we strive to continue to spread the message that whether you are wearing one-piece, a two-piece, or a burkini, you are the pilot of your own beauty. And that's why SI Swimsuit Editor MJ Day stands behind Halima, her religoius freedom, and her seemingly unconventional definition of beauty.
"We believe beauty knows no boundaries," MJ told SI.com last year. "I admire Halima, and I consider her an inspirational human for what she has decided to use her platform for and her work with Unicef as an ambassador. She is, in my opinion, one of the great beauties of our time, not only outside but inside. When we met, I was instantaneously taken by her intelligence, enthusiasm and authenticity... Whether you feel your most beautiful and confident in a burkini or a bikini, YOU ARE WORTHY."
Don't miss a moment of Halima's second year as a Sports Illusrated Swimsuit model! Be sure to follow along on Instagram, Twitter and Facebook to see all the action from set!