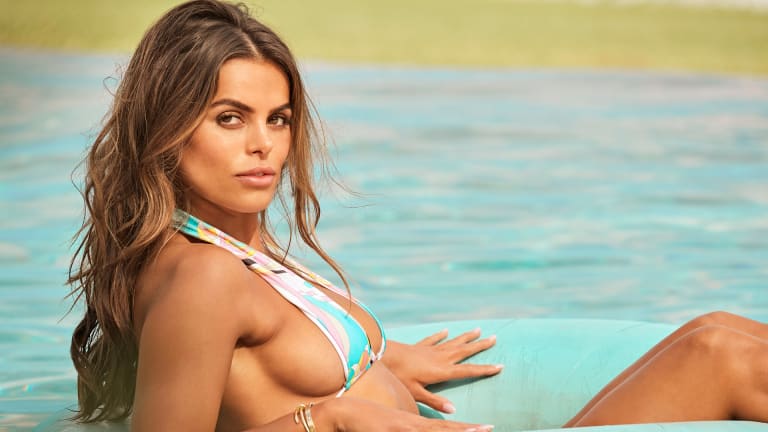 Prediction: Brooks Nader Will Take Over for Kim Cattrall in Sex and the City
Model Brooks Nader appears in the 2021 edition of the Sports Illustrated Swimsuit Issue, but the Lebanese-American Instagram star has another gig on her wish list: taking over for Kim Cattrall as Samantha Jones in Sex and the City.
Why Brooks Nader Wants to Play Samantha Jones
"I'm a Samantha," says Brooks Nader.
The 24-year-old Aquarius stars in the new Sports Illustrated Swimsuit Issue, but when she arrives at the Hard Rock Hotel to see her photo shoot in person, Nader is dressed more like a Sex and the City star than a bikini model, with Italian leather go-go boots, a hot pink mini dress, and a Fendi purse—which, unlike Samantha's, came straight from the Fendi boutique and not the trunk of a car in West Hollywood.
"I want to tell anyone working on the show, 'Brooks Nader will be the new Samantha Jones!'" she laughs. "I could have a whole story worked out, like, I'm Samantha Jones' wild niece who comes to the city and looks up her aunt's old frIends, and totally shakes up their world. I could show Carrie Bradshaw how to use TikTok. I would take Charlotte out to the best clubs and make her stay out until 4 A.M. having the time of her life and finding her wild side. I can help everyone find their confidence in a really fun, authentic way, you know? I can be the Gen Z Samantha Jones, no question."
Of course, even if Nader can't be Samantha Jones, it's clear she's moving into pop culture icon territory. The 5'8" Louisiana native has nearly a million Instagram fans, a CoverGirl campaign, and a major internet coup: Google search results put her in the same category as Brigitte Bardot—one of the few blondes even more famous than Samantha Jones herself.
Click here to see more of Brooks Nader.