Publish date:
Where to Stay in Turks & Caicos: Beach Enclave
Beach Enclave in Turks & Caicos is the perfect place for travelers who seek the privacy of a luxury villa.
Beach Enclave in Turks & Caicos is the perfect place for travelers who seek the privacy of a luxury villa.
Tucked away on secluded white-sand beaches, Beach Enclave is a collection of private luxury villa resorts with amazing amenities. 
We were lucky enough to spend a few days at this Caribbean oasis during our photo shoot with professional surfers Malia Manuel, Courtney Conlogue and Caroline Marks. And the next time we head back to Turks and Caicos, you can bet we'll have our eye on another stay at Beach Enclave. 
Ranging from three-to-seven bedrooms, each villa at Beach Enclave features a private beach area, making it your very own boutique resort, complete with personalized services provided by a dedicated private butler, private chef and resort staff.
Trust us when we say, once you have experienced vacation with a Beach Enclave butler, it's really hard to imagine NOT having one on vacation. The resort's butlers are empowered and trained to do everything in their power to anticipate guests' every needs and to make your stay worry-free. By the end of your stay, they will feel like part of the family in your home.
As a guest of Beach Enclave, you can also attend yoga classes taught by Retreat Yoga and Wellness at both North Shore and Long Bay. Develop core strength, flexibility, and mindfulness at one of the group classes, or arrange a private session at your seaside villa.
Dreaming of a week by the beach? Once you find your spot at Beach Enclave, you will never want to leave.
FAQs:
Where is Beach Enclave located? And when did it open?
We're located in Providenciales, Turks & Caicos. North Shore opened in 2016 and Long Bay in 2018, and Grace Bay is set to open in 2020.
How can one travel to your resort?
We're three hours from New York City and 1 ½ hours from Miami. Have breakfast in New York and lunch at the beach in your private villa.
How far is Beach Enclave from the airport?
Between 10 and 15 minutes.
Best time to travel to Beach Enclave?
November through July.

What type of accommodations are offered at Beach Enclave?
Private villas on the beach ranging from four to seven bedrooms.
What is included in my hotel rate at Beach Enclave? What amenities are included?
What we are most known for is our dedicated butler service that is included with each stay. Your butler is your right hand during your stay and makes sure you are having a seamless, worry-free stay. From bringing you drinks on the beach to teaching you how to cook pad thai, the butlers end up becoming a part of your family by the end of the trip.
All our amenities:
· One-way transfer from the airport
· Personal butler
· Concierge services
· Daily housekeeping and turndown
· Daily continental breakfast
· Daily group yoga
· Nonmotorized water sports: kayaking, paddle-boarding, snorkeling
· Choice of one of the following activities with Big Blue for up to three guests: kiteboard lesson, Caicos Cays cruise, snorkel, kayak eco tour or SUP eco tour (valued at $500).
· Wi-Fi and Local and Long-Distance calls
· Daily pool and beach set-up
· 24-hour gym on property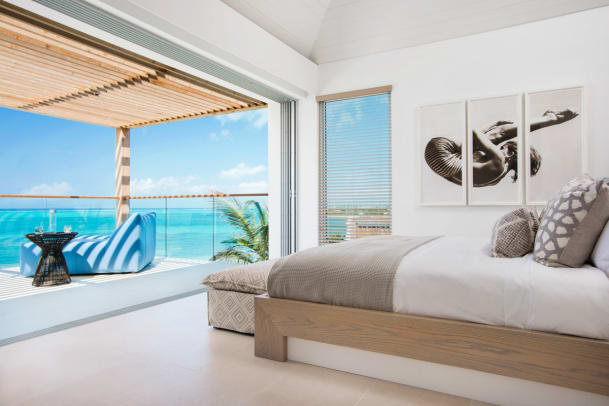 Must have packing items for a trip to Beach Enclave? And why?
A good book and a swimsuit!
What activities are provided by Beach Enclave?
We provide the beach! We have complimentary nonmotorized water sports at every villa, which includes snorkel gear, kayaks, and paddleboards. Each villa has its own heated infinity pool with loungers.
Does Beach Enclave work with outside tour companies? What are some of the activities a guest can book?
Yes—we work with several local companies. One of our closest partners is Big Blue Collective, which is the best water adventure company in Providenciales. In fact, every booking comes with your choice of one of the following activities for up to three guests: kiteboard lesson, Caicos Cays cruise, snorkel, kayak eco tour or SUP eco tour. The great thing we love about them is that they extra step to educate our guests on the natural beauty of our islands and marine life. One of their core values is protecting the environment and so they allow only reef-safe sunscreen on their excursions and use only eco-friendly products to clean their boats.
What are some of the most popular activities booked by hotel guests?
Sunset cruises, full day boat charters to the outer islands, kitesurfing lessons in front of your villa.
Does Beach Enclave work with any charities? Conservation efforts? 
We work with Potcake Place. A list of items that the Potcake Place needs is always included on our concierge welcome email. Many of our guests bring down puppy supplies to donate.
We also created a "BEPledge," which guests can take, which includes:
-using paper straws and bags
-turning off AC if doors are open
-switching off lights when guests are out
-never touching or removing coral from the reef
-observing the amazing marine life, but never touching them
What can a guest expect from their culinary experience at Beach Enclave?
Our Private chefs are foodie connoisseurs from all around the world, and they design meals according to what the guests wants. Want pancakes for dinner? You got it. Sushi for breakfast? No problem.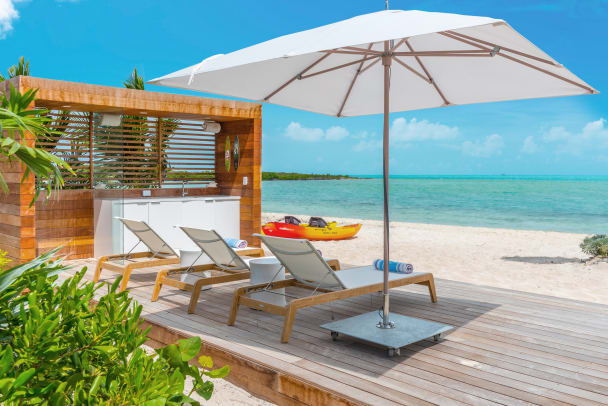 Is there a must have signature drink at Beach Enclave?
Our welcome drink is called "Bottle Creek" and is made with watermelon, cucumber, limes, sugar and mint. Add some rum for local Bambarra Rum for good measure.

Is there a must-do, one-of-a-kind activity or experience at Beach Enclave?
Definitely kitesurfing right in front of your villa at our Long Bay location or snorkeling with turtles along the reef at our North Shore location.
Are there any evening event options at Beach Enclave?
Bonfire and s'mores on the beach after dinner. We can also set up barbecues and dining on the beach.
What should someone bring home from Beach Enclave? Memories of an amazing trip with your family and friends.
Why is Beach Enclave so special?
We are a collection of private villa resorts, but with all the amenities you'd find at a hotel. So imagine your hotel room is your five-bedroom villa. We focus on delivering personalized experiences to all of our guests. For example, one family had a daughter on her university's swim team and had to practice during vacation. We managed to locate a rowing machine on the island and brought it to their villa for their stay. Right now, more than ever, travelers are rethinking the way they travel. Our clients want the exclusivity and privacy, but also five-star service. And Beach Enclave combines the best of both worlds.
Head to beachenclave.com to learn more and book your stay at this fabulous resort.