Publish date:
Where to Stay in the British Virgin Islands: Scrub Island Resort, Spa & Marina
Get some much-needed R&R during a stay at Scrub Island Resort, Spa & Marina.
Looking for a private island retreat? Scrub Island Resort, Spa & Marina is the destination of your dreams.
When we weren't on location shoot for SI Swimsuit 2020, we were busy enjoying our time at Scrub Island Resort, Spa & Marina. This luxurious vacation spot offers unfettered access to a premier marina alongside amazing amenities and services. This secluded hideaway is the perfect spot to enjoy island relaxation and immersion.
The resort has everything you need for the ultimate getaway. From an amazing spa, to luxury villas, to an offshore sailing school, you'll be planning your next trip to Scrub Island before you even leave! Trust us – you'll be dreaming about the resort's fresh lobster until you can come back for more.
Plus, with so many daily activities, you'll get to experience all that the British Virgin Islands have to offer. If you can picture yourself diving among historic shipwrecks, deep sea fishing, captaining your own kayak, and more, then Scrub Island Resort, Spa & Marina is definitely the place for you.
FAQs:
Where is Scrub Island? And how do I get there?
Scrub Island is a serene 230-acre haven situated one mile from the east end of Tortola in the British Virgin Islands.
One can either fly direct into Tortola via Terrance B. Lettsome International Airport (EIS) or St. Thomas via Cyril E. King Airport (STT). From Tortola, the resort team will arrange seamless transfer to our island by way of a private 10-minute ferry ride. From St. Thomas, water taxi services are available to take you direct to Scrub Island, an hour journey.
In addition, Scrub Island's marina offers 55 slips, including five for mega-yachts up to 170 feet.
A valid passport is the principal entry requirement into the BVI. All U.S. and Canadian citizens must present a valid passport for all travel, whether by air or sea, to the islands.
Any interesting historic notes about Scrub Island? What is Scrub Island known for and why?
Scrub Island was first discovered by Christopher Columbus nearly 500 years ago while serving as a stopping point for European explorers en route to new lands. Legend has it that its name came from pirates who dropped anchor in the area to "scrub" barnacles off of their boats. The island remained relatively untouched for centuries.
Where is Scrub Island Resort located? And when did it open?
This luxury private island resort is located on the island for which it's named—Scrub Island. The first resort development to be built in the British Virgin Islands in more than 20 years, the resort opened in July 2010.
How far is Scrub Island Resort from the airport?
Scrub Island is just a 10-minute boat ride from Tortola via the resort's private launch.
Any interesting historic notes about Scrub Island Resort?
Not exactly historic, but this is the beginning of the resort's history. The CEO of the resort loves to sail in the BVI. While on vacation in 2003, he met the owner's widow over lunch at Donovan's Reef, which was the only establishment on Scrub Island at the time. One thing lead to another, and he returned home as the new owner of the private island.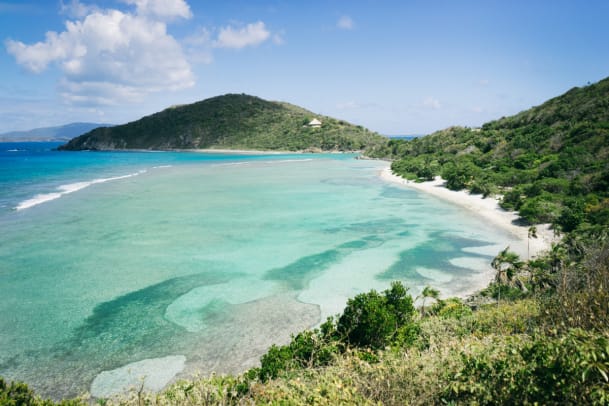 What is the weather like year-round on Scrub Island? What's the best time to travel there?
The climate of the British Virgin Islands is tropical, warm throughout the year, and also influenced by the trade winds. December to March is ideal when the daily average temperature is around 75/77 °F, with a warmer period from May to October (daily average is around 82 °F).
What type of accommodations are offered at Scrub Island Resort?
Scrub Island Resort accommodations consist of 26 guest rooms; 26 one-bedroom suites; and a collection of hillside villas ranging from two to six bedrooms. All offer dramatic views of the Caribbean Sea. Interiors evoke a West Indies feel, furnished in tropical woods with white accents and island touches. Complimentary WiFi is available throughout the property.
Ocean-view guest rooms—each 357 square foot room has its own private balcony or terrace offering marina and ocean views. King-size beds have premium bedding, flat-screen televisions and bathrooms with separate showers and tubs.
One-bedroom ocean-view suites—measuring approximately 960 square feet and featuring covered verandas, the suites offer one and a half baths, separate living spaces with plush chairs, sleeper sofas, 50-in. flat-panel televisions and washer and dryers. Gourmet kitchens have SubZero and Wolf stainless-steel appliances and granite counters. Natural stone flooring, timeless teak furniture and wood-beamed ceilings complement the interiors.
Hillside villas—offering 3,000 to 6,000 square feet of space, villas range from two to six bedrooms and offer expansive views of the Caribbean Sea. They feature large balconies and terraces as well as SubZero, Wolf and Viking appliances, enclosed rain showers and private plunge or infinity-edged pools. Private chefs and attendants are available upon request.
What is included in my hotel rate at Scrub Island Resort? What amenities are included?
Scrub Island Resort features a lagoon-style, four-tiered pool with waterfalls and swim-up bar that has walk up access to Donovan's Beach. A water trampoline, sea kayaks and paddle boards are also available for guests' enjoyment.
Guests can relax on three private beaches. North Beach measures 1,200 feet and features lounge chairs, sun decks and convenient access to One Shoe Beach Bar & Grill.
Complimentary WiFi is available in all guest rooms and throughout the property. A 24-hour fitness center is located in Marina Village.
The resort hosts can arrange excursions, boat rentals, spa treatments, restaurant reservations and personalized experiences for guests.
What are must-have packing items for a trip to Scrub Island Resort? And why?
The dress code is resort casual. Swimsuits with cover up are acceptable in the dining outlets during the daytime hours. In the evening, men will feel comfortable with a collared shirt and nice shorts. Water shoes are convenient for beach, boat and excursions.
What activities are provided by Scrub Island Resort?
Scrub Island's marina is a jumping-off point for adventure. Excursions to the Baths, Virgin Gorda, Norman Island and Jost Van Dyke can be arranged by the resort hosts.
Scrub Island is the closest destination to the North Drop, known as the "honey spot" for tuna and world-record blue marlin fishing. Guests can book full or half-day fishing excursions complete with boat, guide and equipment. A variety of watercraft are available for group and private charters.
The shallows surrounding Scrub Island, as well as many nearby coves, bays, reefs and inlets, are ideal for snorkelers and divers. Snorkeling and diving trips may be arranged with Dive BVI, located on property. Sightseeing charters may also be set up by resort hosts.
The Scrub Island Marina is also the newest home to America's #1 Sailing School®, Colgate Offshore Sailing School. First-time sailors or guests wanting to sharpen their sailing skills also have several learning vacation options at Scrub Island Resort, including Learn to Sail, Performance Sailing and Fast Track to Cruising courses.
Named for the native tropical shrub, the Ixora Spa is perched on a hillside overlooking the crystal-clear waters of the Caribbean Sea, offering a haven to relax, refresh and reenergize. As a testament to the island's namesake, signature scrubs are a requisite for spa goers seeking a true experience that embraces its cliff-side sense of place. This 3,000 square foot facility has spectacular treatment rooms offering breathtaking views unlike any other. The highly trained therapists deliver masterful Ayurvedic experiences enticing the senses while rejuvenating the mind and refreshing the body. Featuring antioxidant rich products crafted with natural botanicals and anti-aging formulations, the treatments of the Ixora Spa leave guests' minds peaceful, muscles relaxed and skin beautiful. Yoga classes are offered on the outdoor terrace overlooking the Sir Francis Drake Channel.
Does Scrub Island Resort work with outside tour companies? What are some of the activities a guest can book?
The resort marina offers exhilarating excursions through Dive BVI and sailing certifications with Offshore Sailing School, and is the base of operations for Dream Yacht Charter, the world's leading charter company. Especially popular are the nighttime illuminated transparent kayak tours and personal RIB boat rentals for exploring the nearby islands.
What are some of the most popular activities booked by hotel guests?
· Couple's treatment with body massages and scrubs at Ixora Spa
· Illuminated transparent kayak tour
· History hike, lead by our general manager for intriguing stories and jaw-dropping views
· Island-hopping to some of the iconic BVI watering holes, like Willy T's and Soggy Dollar Bar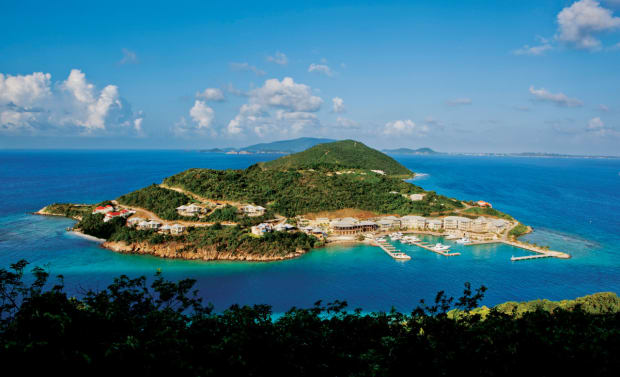 What are your top-five must-have experiences in Scrub Island?
· Sunset cruise aboard a luxury catamaran from the Scrub Island Marina
· Attend a yoga class at Ixora Spa
· Virgin Gorda Explorer Day Trip—known for the Baths, a labyrinth of beachside boulders forming a series of pools and seawater-flooded grottoes
· North Beach Festival (every Wednesday evening) at the resort, featuring authentic BVI cuisine, music and entertainment
· Full Moon Party at nearby Trellis Bay
15. Is Scrub Island Resort located on the beach?
The luxury private island resort is the only thing located on Scrub Island. Scrub Island is fringed by three pristine beaches that shelve gently into the Caribbean Sea. It features protected coves, nature trails and stunning scenery.
Does Scrub Island Resort work with any charities? Conservation efforts? If yes, please explain.
· BVI Autism Centre
· Pack for a Purpose
· Operation Special Forces
What can a guest expect from their culinary experience at Scrub Island Resort?
Guests may choose from a selection of venues and take advantage of private chef services and in-room dining.
Cardamom & Co.—Overlooking the marina and pool, the resort's signature restaurant features an exciting menu telling the story of the spice trade and its impact on the diversity of cultures and flavors found throughout the Caribbean.
Donovan's Reef Marina Bar & Grill—This outdoor grill offers popular Caribbean favorites and features a newly thatched roof and open-air views of the resort and neighboring islands.
Scrub Island Outpost—Located in Marina Village, the café offers a deli menu with fresh fruit salad, made-to-order sandwiches and pizzas and a wide assortment of provisions—including coffee and baked goods—plus deli meats and cheeses, snacks, sweets, premium wines and liquor.
One Shoe Beach Bar & Grill—Located on North Beach, One Shoe features a private pool, refreshing cocktail service and casual cuisine.
Is there a signature dish to look out for at Scrub Island Resort?
Whole Roasted Snapper with Lemon Grass Sambal, from Cardamom & Co.
Is there a must have signature drink at Scrub Island Resort?
Crescent Moon—lemongrass & cinnamon infused Mount Gay Rum, peach, strawberry, passion fruit, mango, fresh lime juice, club soda.
Is there a must-do, one-of-a kind activity or experience at Scrub Island Resort?
North Beach Festival (every Wednesday evening), featuring authentic BVI cuisine, music and entertainment.
Are there any evening event options at Scrub Island Resort?
After dinner, stroll along the docks to see hundreds of tarpon for your very own underwater spectacle.
What should someone bring home from Scrub Island Resort?
Branded boutique wear from Boaters Republic in our Marina Village. Pro tip: They also serve frozen cocktails.
Why is Scrub Island Resort so special? 
It's private-island exclusivity with a coveted location from which to explore the British Virgin Islands.
Visit scrubisland.com to book your trip today!