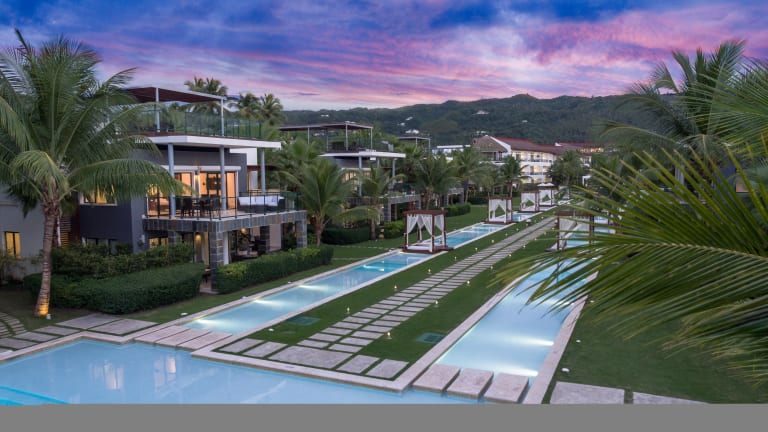 Publish date:
Where to Stay in the Dominican Republic: Sublime Samana Hotel and Residences
For a relaxing and unique Dominican experience, be sure to book your stay at Sublime Samana Hotel and Residences.
For a relaxing and unique Dominican experience, be sure to book your stay at Sublime Samana Hotel and Residences.
Every day feels like a dream in the Dominican Republic! This incredible location was the perfect backdrop for SI Swimsuit's 2020 photo shoot with Camille Kostek, Kelsey Merritt, Halima Aden, Anne de Paula, Josephine Skriver and Anita Marshall. 
During our trip, we were lucky enough to stay at Sublime Samana Hotel and Residences, a breathtaking resort in the Dominican Republic. The resort was designed with a minimalist-modern style and conceived by one of the most prestigious architects of the Dominican Republic, Antonio Segundo Imbert.
Made up of fabulous casitas and spacious suites, every room at Sublime Samana provides an oasis of tranquility. The oceanfront location allows you to indulge in the beautiful view of coconut trees and golden-colored beaches.
As for the cuisine, the catch of the day and fresh local ingredients are the main components of every exquisite dish prepared by the chefs at Sublime Samana. Whether dining on ceviche or a lobster wrap at the casual beachside grill or visiting the more formal Bistro to enjoy snapper in coconut sauce, every meal is guaranteed to satisfy.
Guests can also relax and recharge at the spa at Sublime Samana. By utilizing every component of the coconut, the spa delivers treatments that will sooth even the most weary traveler. 
Looking for something more active? Discover your adventurous side, soak in the local culture, and bond with your family and friends along the beautiful beaches of the Samaná Peninsula. Deemed the prettiest area of the Hispaniola Island, the Samaná Peninsula offers guests a variety of adventures such as hiking through the coconut-covered mountains, snorkeling through the pristine waters or watching the incredible humpback whales frolicking off the coast.
So what are you waiting for? Sublime Samana is calling your name! 
FAQs:
Where is Sublime Samana located? And when did it open? 
The hotel opened 2012 and is located in Las Terrenas, Samaná, Dominican Republic.
How can one travel to your resort?
Fly to the Dominican Republic into Santo Domingo or Samaná and then take a car, helicopter (private transfer) or airplane (*local flights from PUJ to Samaná).
*Flights only some days of the week and specific hours.
How far is Sublime Samana from the airport?
Santo Domingo International Airport is two hours away (the option for U.S. visitors)
Samaná "El Catey" International Airport is 30 minutes away (option for Canadians).
What is the best time to travel to Sublime Samana?
Any time of the year is great to come and visit our hotel. Nevertheless, the best weather conditions (not too hot or humid) are during winter.
Sublime Samana
Sublime Samana
Sublime Samana
Sublime Samana
Sublime Samana
Sublime Samana
Sublime Samana
What type of accommodations are offered at Sublime Samana?
Our luxury accommodations go from the nice one- or two-bedroom suites to the spacious casitas, which can have two or three bedrooms. We also have a presidential suite, which consists of four bedrooms.
What is included in my hotel rate at Sublime Samana? What amenities are included?
Breakfast à la carte, nonmotorized aquatic sports, tennis and fitness center, yoga lessons twice a week and Pilates once a week are included.
What are your must-have packing items for a trip to Sublime Samana? And why?
Swimsuits, sun protection, comfortable and breathable clothes, sandals and tennis shoes. These items are necessary to enjoy all the fun and activities that are waiting for you.
What activities are provided by Sublime Samana?
We provide spa treatments, adventure excursions, yoga and Pilates lessons, tennis and basketball courts, nonmotorized aquatic sports.
Does Sublime Samana work with outside tour companies? What are some of the activities a guest can book?
Yes, guests can book ziplining, whale watching, a visit to El Limón waterfall, horseback riding, a visit to Cayo Levantado, a visit to Los Haitises National Park and visits to local and virgin beaches in the area.
Sublime Samana
Sublime Samana
Sublime Samana
Sublime Samana
Sublime Samana
Sublime Samana
What are some of the most popular activities booked by hotel guests?
Spa treatments and massages, whale watching (January to March), El Limón waterfall, Los Haitises National Park, horseback riding on the beach and the tour of the best three beaches in the area.
Is Sublime Samana located on the beach?
Yes, the resort is located along a gorgeous beach. 
Does Sublime Samana work with any charities? Conservation efforts? If yes, please explain.
We recycle and use solar energy as the main power source. Most of the ingredients in the restaurants are locally sourced as well as in the spa . Ninety-five percent of the staff is from the local community. We help the local community by participating in events to clean local beaches, donating to local charities like Fundación Mahatma Gandhi and encouraging our employees to volunteer. We stopped usage of plastic straws, cups, carry-out food containers and bags; we have replaced the plastic used at restaurants with biodegradable items made from corn and rice. We are also are in the process of working with a lab to create our own natural washing powder in efforts to reduce the chemical impact in nature. Hotel bath amenities like shampoo, conditioners, soap and body lotion are made from natural products.
What can a guest expect from their culinary experience at Sublime Samana?
Local flavors, fresh produce and products. At night our bistro offers an international fusion-style cuisine.
Is there a signature dish to look out for at Sublime Samana?
At our Beach Palapa restaurant: our different kinds of ceviche, our fresh grilled fish and seafood.
At our Bistro restaurant, our yellow banana gnocchi and red snapper fillet.
Is there a must have signature drink at Sublime Samana?
Our signature drinks are the Negroni ginger shot and passionfruit mojito.
Sublime Samana
Sublime Samana
Sublime Samana
Sublime Samana
Sublime Samana
Sublime Samana
Sublime Samana
Is there a must-do, one-of-a-kind activity or experience at Sublime Samana?
It's our mega spa treatment at Coconut Whispers Spa, "Mangrove Dew," which consists of three treatments including a temazcal, a mud wrap with corporal massage and a coconut milk bath for a total of 100 minutes.
Are there any evening event options at Sublime Samana?
During the weekends and special events, we offer live music at our Bistro Bar.
What should someone bring home from Sublime Samana?
They should bring home coconut oil, local cacao and any local crafts from Las Terrenas.
Why is Sublime Samana so special? 
We are a small luxury property in a secluded area of the Dominican Republic with a unique ambiance and breathtaking landscape, combining the sea and the mountains in the same place. We offer an intimate and serene experience surrounded by natural wonders, a perfect place to escape, retreat and unwind. Our personalized service and luxury amenities coalesced with the unspoiled natural beauty make Sublime Samana Hotel & Residences a blissful sanctuary for our guests, whether they are couples, families or individuals looking to reconnect with themselves.
Visit sublimesamana.com to book your stay!