Publish date:
Ashley Graham Models Bikinis Alongside Her Mom in New Swimsuits for All Campaign
This post was written by Kaitlyn Frey and originally appeared on People.com. 
Ashley Graham teamed up with an extra special someone to model her latest limited edition Swimsuits for All capsule collection.
The 30-year-old model designed her fifth capsule collection with the inclusive swimwear brand (available online now!), and recruited her mom and role model, Linda Graham, to model the Resort 2018 pieces with her on-location in Agadir, Morocco to celebrate Swimsuit for All's Power of the Journey campaign. 
"My mom has been my role model since childhood and has played a vital role in developing my confidence," Ashley said in a release.
"She promoted body positivity in our household before it was a movement. Her feel-good attitude toward her own body has shaped my ability to remain positive and self-assured," Ashley continued. "I could not think of anyone better to join me in celebrating beauty of all shapes and sizes in this campaign. Plus, she's hot and looks incredible in the suits!"
The model and her mom posed in a series of swimsuits from sexy string bikinis to colorful cutout one pieces in the desert and on the beaches of Morocco.
Ashley continued to promote body positivity when designing all of the pieces in her new capsule by making sure each one would flatter all shapes and sizes. And the model's mom proves there's no age limit to looking amazing in a two-piece — even though she hadn't put one on in over 20 years before this shoot!
"I haven't worn a bikini since the 80s!" Linda said. "I don't think I could have uncovered that inner strength without Ashley. That makes being a part of this campaign so much more special – she's my rock and inspired me at age 53 to be proud of my body again after I lost my own fortitude."
Ashley launched her last Swimsuits for All collection at the end of last year and debuted the sexy swimwear on her 30th birthday.
'"Never not working," she captioned an Instagram video from an on-location shoot in Costa Rica modeling the pieces with her best friends.
"No girl that I know that's my size has ever been able to find the perfect string bikini. So I made it for you," Ashley has said about her designs for the brand.
See all of Ashley's stunning photos from SI Swimsuit 2017: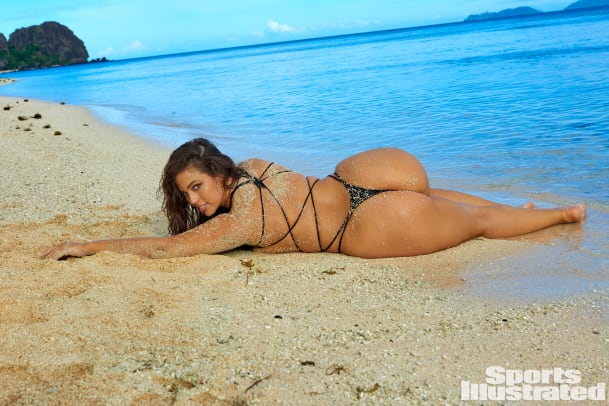 ​