Publish date:
Caroline Wozniacki on SI Swimsuit 2016: "Maybe we should try chocolate body paint!"
When you get a chance to spend your lunch break with tennis pro and bombshell beauty Caroline Wozniacki, you know it's going to be great day. But when that meeting also involves Godiva's soft-serve ice cream and milk-chocolate tennis rackets, things are bound to get even more interesting. 
'Tis the situation when we met up with Caroline at the Godiva store in the MetLife Building in New York City yesterday, to discuss her partnership as a brand ambassador for the world-renowned chocolatier and how life has changed since appearing in SI Swimsuit 2015. 
SWIM DAILY: Why did you decide to partner with Godiva over any other chocolate brand? 
CAROLINE: I'm a huge chocolate fan and I have such a big sweet tooth. Godiva was perfect because I love their chocolates—they're my favorite chocolates. I was so happy when we managed to work everything out and everyone is so nice and helpful, and I get so many chocolates! It's perfect because my whole family loves Godiva as well and they get lots of treats. 
SWIMDAILY: At Swimsuit, body paint is super popular for us. What do you think would be sexier: to be in body paint or chocolate body paint? 
CAROLINE: I think the best of both worlds—chocolate body paint! I think that would be awesome and edible! 
SWIMDAILY: How have things been since Swimsuit? Have you gotten recognition for your spread? 
CAROLINE: It's been crazy. So many people have seen it and I still have people come up with the magazine and tell me how awesome they think I look. That's so nice. Walter was amazing and is the best photographer I've ever worked with. Hopefully I'll get the chance to work with him again. 
SWIMDAILY: Would you ever consider doing Swimsuit again? And if you did, how would you incorporate Godiva? 
CAROLINE: I definitely would. I would love it! It was the most fun I've ever had on a shoot and I would just love to do it again. I think that was such an amazing experience and I would do it anytime. And how to incorporate Godiva? Maybe we should try chocolate body paint!  
BONUS: See some of Caroline's best moments from SI Swimsuit 2015!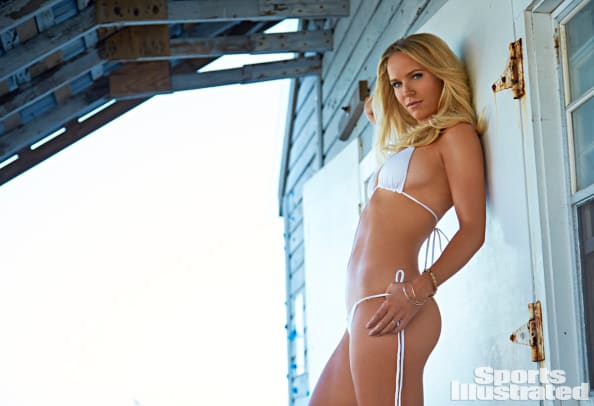 RELATED CONTENT
Caroline Wozniacki ran into Justin Bieber at Indian Wells
Women's tennis in SI Swimsuit, feat. Maria, Serena and friends (or foes)