Publish date:
Caroline Wozniacki has the whole crew laughing in her 2015 outtakes!
Did you know that Caroline Wozniacki isn't just a gorgeous tennis pro? That's right—she's also unbelievably funny, which shines through in her highly-anticipated SI Swimsuit 2015 outtakes reel! 
From a tongue-tied introduction to some insane winds on the beach, there wasn't a single obstacle on our shoot that Caroline didn't face with a smile and witty remark. A passing ferry full of passengers? Not a problem for our girl, who waved them on with a grin as bright as the sun! And how about a treacherous bikini with zippers on both the top and bottom? We're pretty sure Caroline was thinking that "Swimsuits Optional Beyond This Point" sign was not so indirectly meant for her. 
As if that weren't enough, Caroline even gets legendary photographer Walter Iooss Jr. in on the action, splashing him and the rest of the crew as she bounces through the water for a shot. "If I'm getting wet, everyone is getting wet!" 
So as Caroline prepares to take on her next opponent at the US Open tonight, we invite you to sit back, relax, and enjoy a good laugh as you watch the funniest moments from our Dane's breathtaking SI Swimsuit shoot! 
BONUS: See some of Caroline's best moments from SI Swimsuit 2015!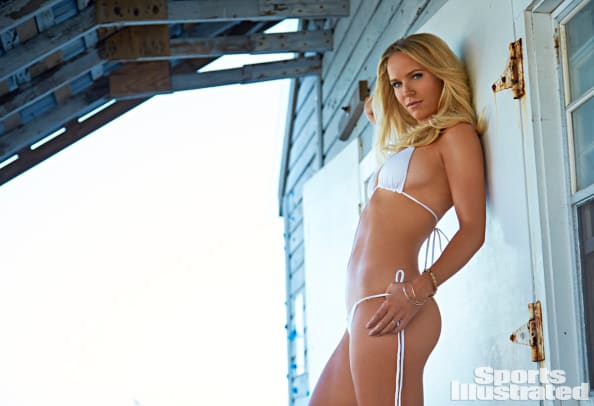 RELATED CONTENT
Caroline Wozniacki has moved on from Rory McIlroy—and she wishes everyone else would, too
Caroline Wozniacki on SI Swimsuit 2016: "Maybe we should try chocolate body paint!"