Publish date:
Emily DiDonato 'answers the call' to support families of fallen NYC heroes
In yet another display of SI Swimsuit models who are as beautiful on the inside as the outside, Emily DiDonato is stepping up as an honorary chair for the Answer the Call 30th Anniversary Gala to support the New York Police & Fire Widows & Children's Benefit Fund. 
On October 22nd, Emily will be joined by co-chair Bill Ritter of WABC 7 Eyewitness News to promote and support the cause of families of fallen NYC heroes. As a honorary chair for the event, Emily will walk the red carpet, give interviews and show her support on social media leading up to the event. 
"We are so thrilled to have Emily and Bill join us as Honorary Chairs to help us mark three decades of helping these amazing families," said Arielle DiCiollo, Director of Development for Answer the Call."Their personal and professional connections with our City's first responders make them ideal partners for this year's milestone Gala."      
Coming from a family of first responders, Emily was an ideal fit for the gala, for her understanding of the families in attendance and what they have been through.       
"As both the daughter and sister of New York City First Responders, Answer the Call is an organization with a mission that is near and dear to my heart," Emily explained. "I have amazing memories of growing up as part of my dad's firehouse family in the Bronx and am truly honored to serve as honorary gala chair for this special event, marking 30 years of supporting the families of our fallen FDNY, NYPD and PAPD heroes."
The Answer the Call 30th Anniversary Gala will take place at the Waldorf Astoria in New York City on Thursday, October 22nd, with red-carpet arrivals beginning at 5:45pm. 
The New York Police and Fire Widows' and Children's Benefit Fund provides assistance to the families of New York City Police Officers, Firefighters, Port Authority Police and EMS Personnel who have been killed in the line of duty.  Since its inception in 1985, the charity has distributed over $130 million to hundreds of families, as it provides immediate and ongoing financial assistance in the form of annual distributions to grieving families after they lose their loved one. The Benefit Fund serves approximately 600 families, and aims to provide meaningful assistance to beneficiaries for the rest of their lives.
BONUS: See some of Emily's best moments from SI Swimsuit 2014 & 2015!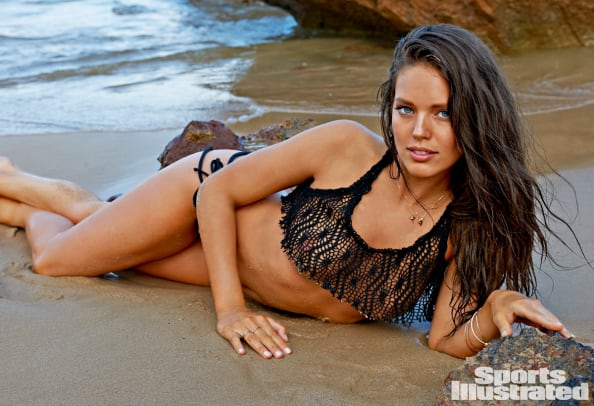 RELATED CONTENT
Learn to luau with Emily DiDonato in her 2015 Kauai outtakes!
​
Emily DiDonato and Kate Bock hit the ice with the Nashville Predators!