Publish date:
Emily Ratajkowski on being a sexual person: 'I love men's butts. I shouldn't have to feel embarrassed of that.'
We're seeing double of Emily Ratajkowski and we definitely don't hate it! 
Channeling a little 50 Shades of Grey style on the cover of British GQ, the "Blurred Lines" star and two-time SI Swimsuit model is smokin' hot as she lives up to her "Instagram's It-girl" title. Emily opens up to famed photographer Mario Testino about everything from legalizing drugs to what it means to her to be a sexual person and feminist.  
On the "Fappening": "I've gotten over the fact I've got no privacy… A lot of people who were victims of that said anyone who looks at these pictures should feel guilty, but I just don't think that's fair.  I think once it's out there, it's out there, and I'm not sure that anyone who googles it is necessarily a criminal. I think the people that stole the photos are."
On "Blurred Lines": "I think I've done enough nudity now that I don't really need to do "Blurred Lines" again. Like, if someone asked me to do it now, I'd probably say no…I didn't feel objectified when I was making it. I felt like I was having a lot of fun as a sexual person."
On sex and being a feminist: "Making sure you get what you want in sex. And feeling sexual without feeling like it's for someone else... Being in love and acting sexually on it in a million different ways is empowering.  I love men's butts I shouldn't have to feel embarrassed of that."
You can head over to British GQ's website to read more or pick up a copy of the magazine when it hits newsstands on August 6th to see all the gorgeous photos of our girl, Emily!  
BONUS: See some of Emily's best moments from SI Swimsuit 2014 & 2015!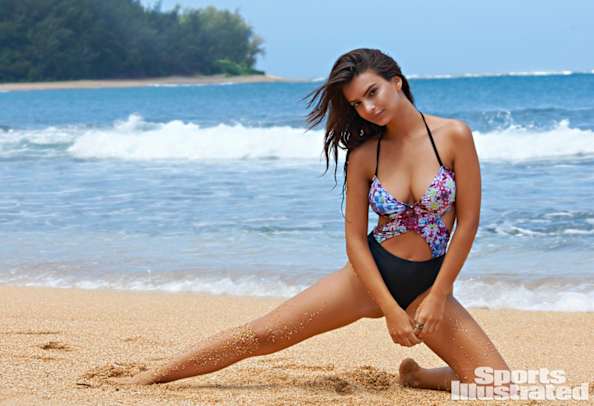 RELATED CONTENT
Channel your inner gingham style like Emily Ratajkowski with DFTD!
Emily Ratajkowski makes riding a unicorn floatie look sexier than ever