Publish date:
Gigi Hadid completely owns Calvin Harris' sexy new music video
Is two-time SI Swimsuit model Gigi Hadid on the verge of becoming a full-time music video girl? We can't say we're opposed to the idea! 
Turns out there are some major perks to being a part of Taylor Swift's girl squad—like landing the part in her super star beau's newest project. Starring in Calvin Harris' "How Deep is Your Love" video, Gigi takes a wild journey from an operating table to a club to a yacht to a cliff-side pool to an outdoor shower to a tattoo parlor to a rooftop party to a bonfire and back, all while looking absolutely flawless. 
While we've all probably dreamed of the perks of teleporting before, Gigi makes the process look unbelievably sexy, as she moves from one location to another wearing barely-there lingerie or a plunging black dress paired with perfectly pouty lips and gorgeous tousled locks 
See for yourself just how AMAZING Gigi looks in the full video below: 
You know you've got it going on when the songwriter/record producer/remixer/DJ of a video doesn't even make an appearance. But then again, that's what happens when our girl Gigi Hadid steps up to the plate! 
BONUS: See some of Gigi's best moments from SI Swimsuit 2015!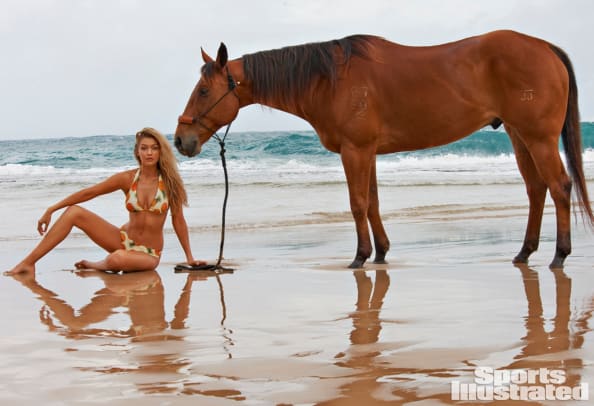 RELATED CONTENT
Gigi Hadid on nudity: 'I've never been scared of being naked in pictures.'
Gigi Hadid turns up the heat in South Beach for Seafolly Swimwear