Publish date:
You Won't Believe What's on Gigi Hadid's Backside
This post was written by Emily Kirkpatrick and originally appeared on People.com. 
If there's one thing Gigi Hadid loves more than a funky pant, it's an assortment of apparel and accessories emblazoned with her own name.  After all, when one reaches the elite echelon of fame that allows you to be on a one-name-only basis (à la a Madonna or a Cher) it is undoubtedly a success worth celebrating. And now it seems that the supermodel may have finally reached capacity for monogrammed goods in her wardrobe, moving on to compile a capsule collection of items inscribed with her boyfriend Zayn Malik's name instead.
Over the course of their almost two-year-long relationship, Gigi has worn a number of clothing items in tribute to her pop star boyfriend, including his heavy metal-inspired tour tee, a necklace bearing his moniker, another shirt that reads "lol ur not zayn malik," and a black bomber jacket with his name writ large in Arabic across the back. But on Tuesday, for the first time ever, the runway star found a way to expand her passion for pieces featuring her S.O.'s moniker. Gigi stepped out wearing a pair of light wash, flared and cropped, high-waisted Maje jeans with Zayn's name in gold script sewn across the back left pocket, much in the way Andy from Toy Story would scrawl his name in Sharpie upon the feet of his beloved playthings.
But while all eyes may have been glued to the branding on her behind, the rest of this ensemble was not something to be missed either. While Gigi is considered something of a street style star, she made the supremely controversial choice to not wear her sweater as a regular human being does, but to simply put it over her arms with the neckhole behind her head, thus fashioning it into a sort of makeshift shrug. Surely every millennial can universally agree that this is a trend that should never, ever be brought back from the dead. She added a tiny yellow Fendi bag, and a pair of white furry mules that may have her answering to the Today Show staff again; if her overlong white coat sent germaphobic chills down Matt Lauer's spine, just wait until he gets a load of these furry white mules Gigi's been traipsing around town in.
See some of Gigi's hottest moments with SI Swimsuit!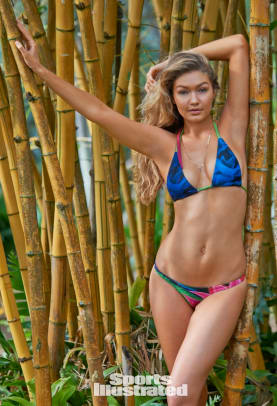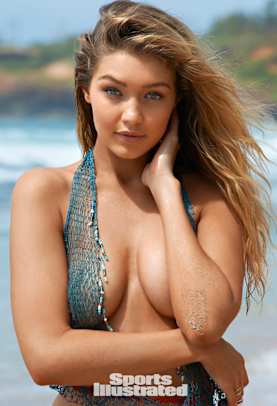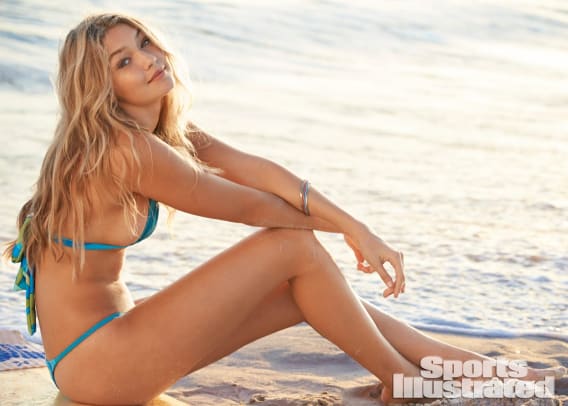 ​