Publish date:
'Thank Goodness' for Kate Upton: The Story Behind Justin Verlander's Move to Houston
Justin Verlander reveals that Kate Upton was behind his decision to join the Houston Astros.
In a recent segment with ESPN's Pardon the Interruption, now-Houston Astros pitcher Justin Verlander revealed that his fiancée, Kate Upton, was a major part of his decision to move to the Lone Star State. 
With just 40 minutes to make a career and life-changing choice, Justin explained that the support of his main squeeze was critical. 
"Thank goodness my fiance Kate was there," Justin said in the interview. "It made my decision a lot easier."
After pacing back and forth and making multiple phone calls, Justin said that the enthusiasm from his partner-in-crime helped solidify his quick decision. 
"Finally, I'm still pacing and I just kind of stop and I looked at Kate and I go 'Screw it; We're going to Houston,'" he explained. "And she's like 'Heck yeah.' You know I'm kind of trying to say the right language here. But she says 'Heck yeah, we're going,' and that was it. That was the decision." 
And the SI Swimsuit cover model's support hasn't stopped there! Since his transition from Detroit to Houston, Kate has captured the hearts of many Astros' fans, and even stole the spotlight with an adorable playoff-clinching kiss.
Can't get enough of Kate? Cleary we (and Justin) can't either! Keep coming back to Swim Daily for updates on your favorite blonde bombshell!
See all of Kate's gorgeous photos from SI Swimsuit 2017: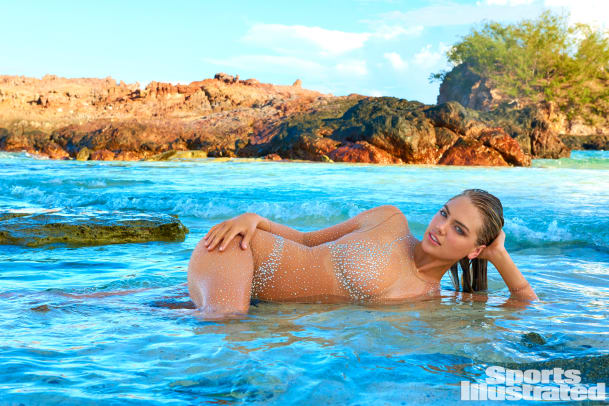 ​