Publish date:
Emily DiDonato and Kate Bock hit the ice with the Nashville Predators!
It's the most wonderful time of the year...the NHL Stanley Cup Playoffs are here! To celebrate, we're bringing you an unforgettable moment from our time in Nashville during SI Swimsuit Launch Week. 
The ladies of SI Swimsuit are ALWAYS up for an adventure, so we knew we were in for a treat when we asked Emily DiDonato and Kate Bock to join us at Bridgestone Arena for an afternoon of hockey skill competitions. 
The Nashville Predators' center Filip Forsberg and defensemen Seth Jones and Roman Josi were up for the challenge of teaching our girls how to rule the rink, and the competition was nothing short of fierce. Tasked with mastering three essential hockey skills, Emily and Kate learned to face-off, perfect their slap shots, and skate backwards. We may be biased, but our girls looked like naturals next to some of the league's finest. 
For all of our hockey fans out there, you may know that the Predators' own Pekka Rinne has all but assured himself to be a finalist in the Vezina Trophy race as the League's best goaltender; FilipForsberg is tied for second in rookie scoring with 64 points; and Roman Josi is the first Predators defenseman to score 15 goals and record 40 assists in the same season. So if there's a group of guys equipped to teach a newbie to dominate the sport, the Preds seem like the obvious choice, don't you think? 
Be sure to check out the video above to see which SI Swimsuit model reigns victorious, and tune in Wednesday at 8:30pm EDT to see the Nashville Predators take on the Chicago Blackhawks in Round 1 of the playoffs!
BONUS: Go behind the scenes with Emily and Kate at Bridgestone Arena!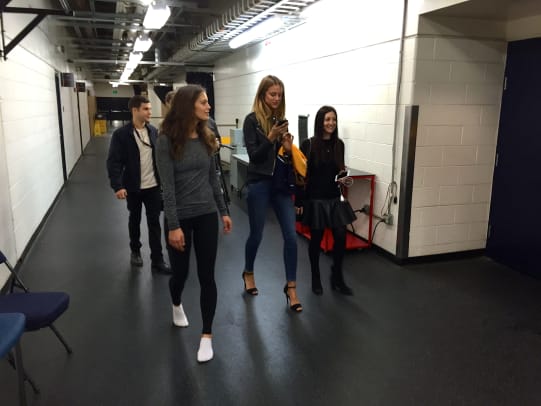 RELATED CONTENT
SI Swimsuit Unfiltered starring Kate Bock, Ariel Meredith & Nina Agdal
Get BTS as Kate Bock and Emily DiDonato face off on the ice!