Publish date:
Get BTS as Kate Bock and Emily DiDonato face off on the ice!
They're actresses, comedians, Twitter stars and sports fanatics. Is there anything that the girls of SI Swimsuit can't (or won't) do? 
While we were down in Nashville last week, we took the opportunity to stop by and visit the Nashville Predators. With the best record in the NHL, we knew the Preds would be able to show our girls a thing or two about game they've so obviously mastered. 
Our brave contenders came in the form of SI Swimsuit models Kate Bock and Emily DiDonato. Both known to be competitive athletes at heart, they were facing off and scoring goals in no time at all. 
A big thanks goes out to the Nashville Predators for having us. Check out their BTS video from the shoot, and be sure to come back for our in-depth "hockey basics" video...coming soon! 
BONUS: See BTS photos as Kate and Emily face off on the ice!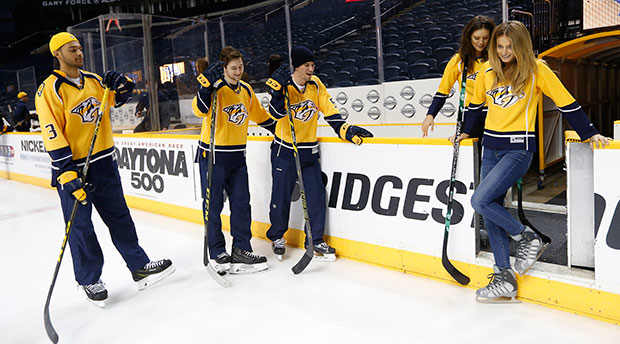 RELATED CONTENT
Who rocked Nashville? Find all the bands from SI Swimsuit Launch Week!