Publish date:
Nina Agdal 'cheats on' Bryce Harper with Mike Trout
Watch out, Bryce Harper...it looks like six-time SI Swimsuit model Nina Agdal might have a new favorite MLB player named Mike Trout! 
Spotted at the official opening of the New Era Cap Store at Angel Stadium in Anaheim, California, Nina looked radiant in an Angels tank and ripped jeans as she threw out the first pitch with a little help from the Angels' all-star center fielder. And while she's better known for being a model than a professional baseball player, we must say Nina certainly dressed the part for her debut in the big leagues. 
Our 2014 SI Swimsuit cover model recently starred in a New Era commercial with Nationals' right fielder Bryce Harper, in which the two faced-off in a catwalk challenge and batting competition to celebrate the company's All-Star caps.
So it's safe to say the sporting goods company has made a solid investment in Nina, who seems to have the attention of all of MLB's top talent and may even be a good luck charm—the Angels came out with a 2-1 victory last night and we're just sure it was that sexy first pitch that inspired the home team! 
Attagirl, Nina. Attagirl! 
BONUS: See some of Nina's best moments from SI Swimsuit 2014 & 2015!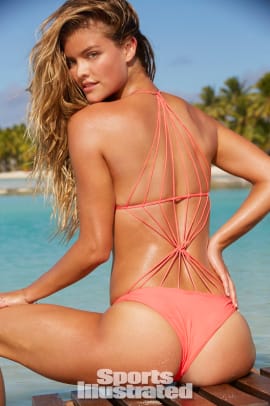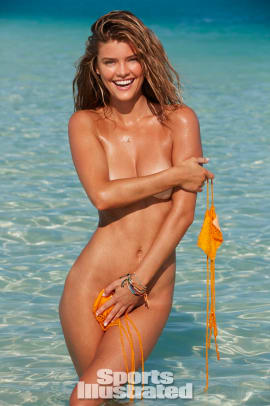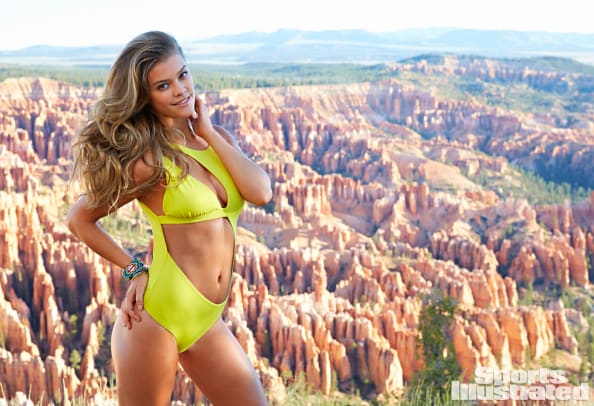 RELATED CONTENT
Chrissy Teigen and Nina Agdal show off a whole lot of booty, instantly start new Instagram trend