Publish date:
Is it too late now to say sorry? Justin Bieber regrets snubbing Ronda Rousey's little sister
Justin Bieber is publicly apologizing to Ronda Rousey, but is it too late now to say sorry? 
Early last month, the UFC fighter revealed that during a party in Cannes, the pop superstar snubbed her little sister, who was at the time a major Belieber, when Ronda approached him to take a photo with the two of them. In the process, Justin lost not one but two very important fans, and we can assume only further propelled Ronda's despise of just about everyone who's ever been a part of Floyd Mayweather's posse. 
Now, in a somewhat surprising twist of events, the "Sorry" singer is finally saying sorry in an interview set to air on ET tonight. 
"I guess, supposedly, she asked for a picture with her sister or something, and I guess I said no?", Bieber explains in the interview. "But I don't remember this happening so, Ronda, I'm sorry. Don't kick my ass!"
Can you blame the guy for wanting to get on Ronda's good side? No. But did he really learn his lesson? Clearly not. The pop sensation went on to criticize Ronda's skills in the ring, while talking about his desire to improve his own boxing skills. 
"I would like to get better at boxing...Did you see Ronda Rousey?," Justin said (about Ronda's shocking loss to Holly Holm at UFC 193). "She got knocked out cold! Oh my God, she got knocked out so bad. Yea no, she got pummeled."
Come on, kid. One would think that Justin learned the first go around that dissing "the world's most dominant athlete" is no good, but then again, it's Justin Bieber, so who knows what that guy is thinking. We just hope he doesn't cross paths with Ronda anytime soon...for his sake!
BONUS: See some of Ronda's best moments through the lens of SI!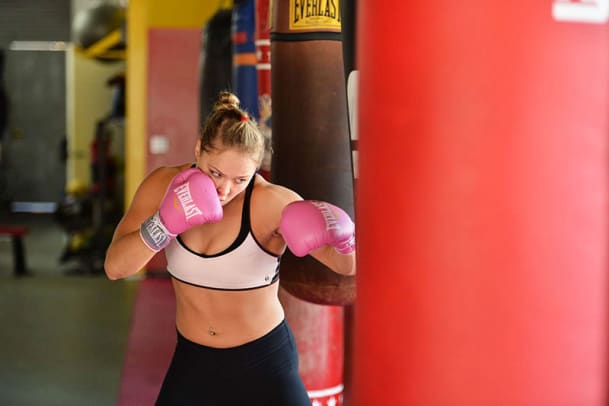 RELATED CONTENT
You won't believe Ronda Rousey's plans for her $10 million fight money
Ronda Rousey shares the secret to great sex: "If you need lube, then you're being lazy."