Publish date:
SI Swimsuit 2016 Revealed : Celebrate the issue with our live show during NBA All-Star Weekend on TNT
By now, you already know Nina Agdal, Hannah Ferguson, Chanel Iman and a plethora of your favorite SI Swimsuit models are back in 2016—thank goodness! 
So what more could we have in store for SI Swimsuit 2016? A live show, for one! 
Sports Illustrated,IMG and TNT are teaming up for Sports Illustrated Swimsuit 2016 Revealed, a first-of-its-kind broadcast event which includes the highly-anticipated unveiling of the 2016 Sports Illustrated Swimsuit cover. Actor, comedian and recording artist Nick Cannon and The Librarians star and Skin Wars host Rebecca Romijn will host the festivities, and help us celebrate the amazing women in this year's edition.
• Win a date in NYC with SI Swimsuit model Samantha Hoopes!
Our 1-hour live-to-tape show on TNT will air Saturday night immediately following the NBA All-Star Slam Dunk competition, and will feature our 20+ SI Swimsuit models, behind-the-scenes footage from our exotic shoots, and the final six contestants in the nationwide search for the next SI Swimsuit model. Viewers will be able to vote (through April 15) for their favorite model search contestant, ensuring one lucky woman's spot in the 2017 issue. 
Don't miss it as three-time Grammy winner NE-YO performs his single "Higher Place" for the first time on television and Elle Macpherson receives the Jule Campbell Award*, named for the pioneer behind the SI Swimsuit franchise. Chrissy Teigen will present the award to the iconic businesswoman who has left a lasting impact on the fashion, entertainment and beauty industries since her introduction into the industry as a SI Swimsuit model. 
• How far will people go to catch a glimpse of Ronda Rousey in body paint?
Be sure to tune in! Sports Illustrated Swimsuit 2016 Revealed will air Saturday, Feb. 13, at 10:30 p.m. (ET) / 7:30 p.m. (PT) during NBA All-Star Weekend on TNT, following the network's coverage of State FarmNBA All-Star Saturday Night.
BONUS: See some of our favorite moments from SI Swimsuit 2015!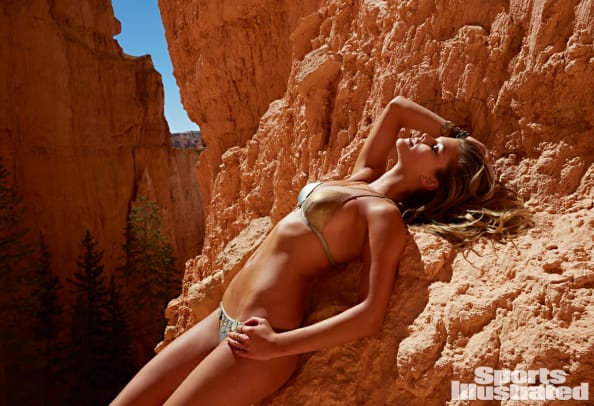 *The Jule Campbell Award is named for Jule Campbell, the SI editor who was the heart and soul of the Swimsuit edition for over 30 years. Campbell pushed the boundaries and made the brand what it is today. She had an expert eye for beauty, glorious locations and provocative swimwear. She made sure SI changed with the times and set the trends. In the process, she helped create careers, including those of inaugural Jule Campbell Award recipient Elle Macpherson and host Rebecca Romijn.