Publish date:
SI Swimsuit Editors' Picks: Hotels, Day 4
BEING AN editor atSI Swimsuit means exotic places, fresh fashions and an ever-growing list of must-haves. This week we're letting you in on some of our favorite and most luxurious places to crash. Perhaps one of these glorious locations will inspire you to pack a bag and head out of town.
* * *
MJ Day, Assistant Managing Editor:  NECKER ISLAND in the British Virgin Islands
Courtesy of Necker Island
When MJ Day, the woman who has visited all seven continents and stayed at many of the world's top hotels, calls Necker Island the "best of the best," you may as well believe her. It was there, on the private island of multi-billionaire/lucky-duck Sir Richard Branson, that the 1997 Swimsuit cover of Rebecca Romijn in chain-mail was shot. That's the kind of beauty a place like Necker Island inspires.
So far my Necker Island visit has been limited to the Internet, but just uploading these pictures and this video I found myself daydreaming of a trip there. So who wants to fund that trip? Anyone?
* * *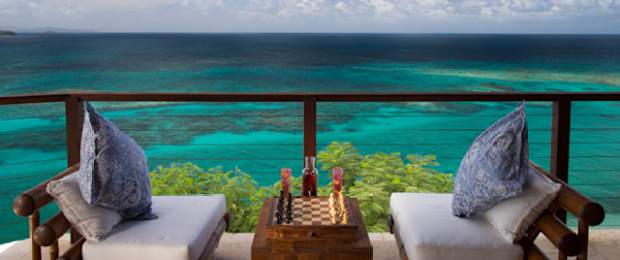 * * *
* * *
From the Necker Island website:
Necker is designed to be your own private hideaway—a place far from the stresses and strains of daily life where you dictate the pace and the mood. Whether your passion is suiting up and getting wet in the crystal clear water or relaxing with a book on a deserted beach, you'll be well-catered for. There is a dedicated team of fabulous staff on island plus more than 200 flamingos who are all part of the Necker family!
Phone: 877-577-8777
Contact: enquiriesusa@virginlimitededition.com
Rooms: Six Bali Houses (1 BR) and one Great House (8 BR + childrens' bunk-room + master suite)