Publish date:
SI Swimsuit Editors' Picks: Hotels, Day 3
BEING AN editor atSI Swimsuit means exotic places, fresh fashions and an ever-growing list of must-haves. This week we're letting you in on some of our favorite and most luxurious places to crash. Perhaps one of these glorious locations will inspire you to pack a bag and head out of town.
* * *
Darcie Baum, Senior Editor:  WOLWEDANS DUNE LODGE in NamibRand Nature Reserve, Namibia
In 2013 we shot in Namibia and spent most of our trip at Wolwedans Dunes Lodge. You don't know peace and tranquility until you've experienced this place.
Courtesy of Wolwedans Dune Lodge
The property is on hundreds of thousands of acres of protected land, and there are spring bok and zebras running wild through your backyard.
Each guest stays in one of the nine abodes, which are designed with the environment in mind. In the morning I remember waking up to a light creeping over the mountains, filling the air with pinks and blues. It was magical. The food at the lodge was also out of this world, with fresh veggies from their garden and delicious meats and fish. The staff was like family, and we had so much fun shooting here.
* * *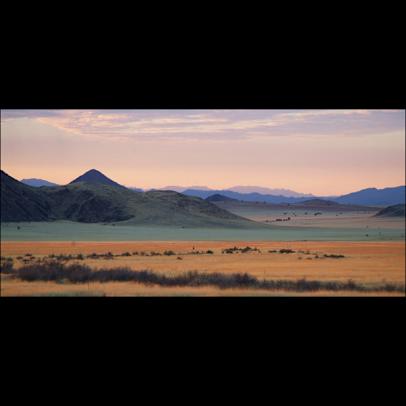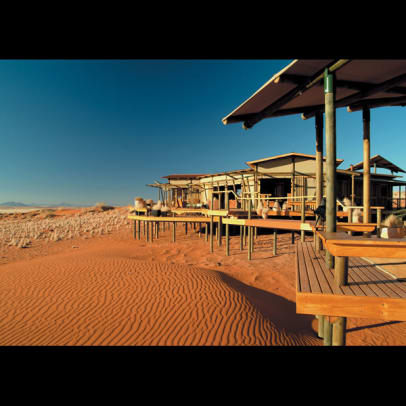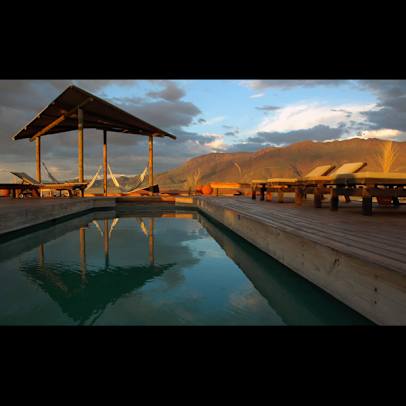 * * *
From the Wolwedans Dune Lodge website:
Wolwedans is more than a collection of camps – it's ethos lies in setting an example in ecotourism, sustainability and its commitment to the conservation of NamibRand Nature Reserve.

Your African dream desert vacation becomes real with us: Wolwedans Collection of Camps nestles into the dunes and is set against a backdrop of diverse and breathtaking desert scenery. Located in the heart of NamibRand Nature Reserve in southern Namibia, our portfolio of timeless and elegant safari camps provides the perfect base from which to embark on exciting and interpretative safari activities or simply relax and enjoy the grandeur of the pro-Namib landscape.
Phone: +264-61-230-616
Rooms: 9