Sailor Brinkley Cook has a message for Internet butt shamers: 'Let them see cake!'
This story was written by Eily Kirkpatrick and originally appeared on People.com. 
When Christie Brinkley's daughters boldly inherited the Sports Illustrated Swimsuit model mantle from their mother, Sailor Brinkley Cook and Alexa Ray Joel made it crystal clear that they have no time at all for those trying to body-shame them back into a caftan cover-up. But it seems despite the lengthy statements they each made about how this experience helped them learned to love and accept their bodies and made them feel more powerful as women, trolls will still be trolls. With her latest social media portrait, however, Sailor made it clear once and for all that bullying her over her body is only going to inspire her to be even more in your face about it.
On Sunday afternoon, the SI star re-posted an image of herself from the magazine's latest Swimsuit Edition on Instagram in which she wears a navy blue tank top and thong bottoms, glancing askance at the camera with her behind in full profile. This picture, however, unlike the original, came with the addition of some special extras: a photoshopped collage consisting of her own butt, copy and pasted roughly a dozen times all around her portrait, à la Kim Kardashian's infamous Kimojis.
The 18-year-old explained in the caption for the shot the rationale behind her sudden enthusiasm for her own posterior, writing, "Apparently Instagram isn't the biggest fan of my little bum and i have been deleted and reported. To that i say LET THEM SEE CAKE!!!!!!!!"
To translate: a follower was offended enough by Sailor's "little bum" to report the previously un-doctored image for containing inappropriate content, inspiring Sailor to quadruple down on the so-called offensive body part in question. Given her love of clapping back at body shamers and enthusiastic celebration of her own derriere, it appears that in the social media vacuum that Kim K has left in her re-branded wake, we may be about to crown the new queen of the cheeky selfie.
See all of Sailor's gorgeous photos from SI Swimsuit 2017!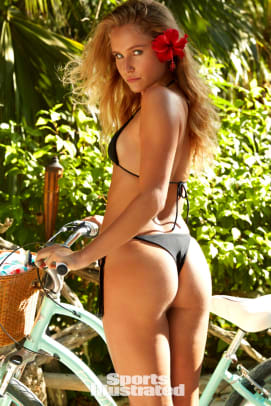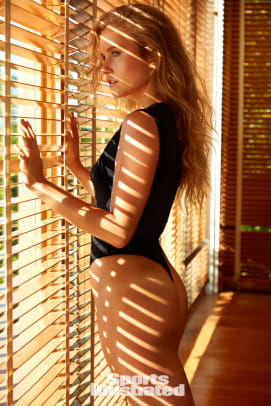 ​