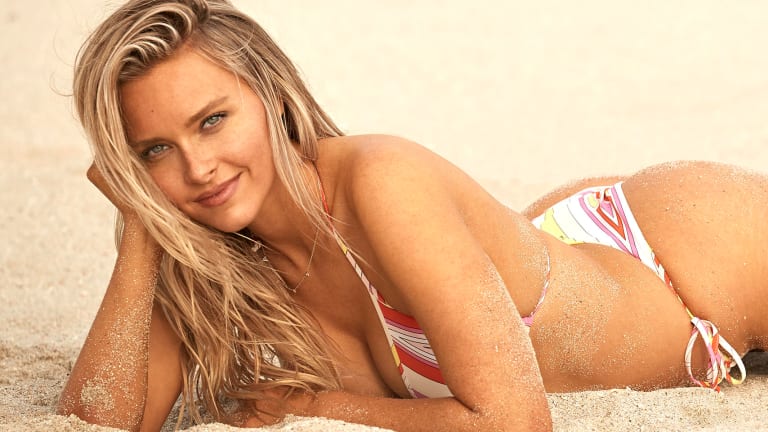 Camille Kostek Is the NFL's Secret Weapon—and Maybe Yours, Too
Camille Kostek is a Sports Illustrated Swimsuit Issue model and former cover girl. But the former barre instructor has been training boyfriend Rob Gronkowski in the art of classical ballet and ballroom dance—improving his on-field performance and helping her practice for a possible run on Dancing With the Stars.
Who Is Camille Kostek?
Who is Camille Kostek? Depends when you ask her. The 29-year-old is a Sports Illustrated Swimsuit Issue star, a jewelry designer for Dune, a former professional cheerleader, the girlfriend of NFL great Rob Gronkowski, the creator of #NeverNotDancing, the host of TV's Wipe Out! and—if the lines for her autograph are any indication—one of the most popular models in America. 
"And yes," she laughs, "I swear I sleep, too! But I need to have a multifaceted career. I don't like complacency. I need a challenge."
What Does Camille Kostek Do?
Camille Kostek cheered for the Patriots before becoming a Sports Illustrated Swimsuit Issue cover star and a television host. Now she's taking her first love—dance—and turning it into a personal mission. 
"I grew up doing dance competitions, the kind you see on Dance Moms," she explains. "I'm a born performer—it's why I had such a great time as an NFL cheerleader—and I taught barre class. Now that I'm doing more TV, my dream show is Dancing with the Stars. My dream dance partner is Derek Hough, obviously, but I would be so happy to compete with whoever's ready to take my hand on the dance floor! I can kill the foxtrot. Ballroom is a little more difficult for me, but I was trained in classical ballet, jazz, tap, everything, so I say, give me a challenge. Give me the waltz. I'll do it. I'll practice."
Does Camille Kostek Teach Conditioning for the NFL?
Kostek's not the only one whose game is on pointe—she'll often practice her ballet moves with Gronkowski himself. 
"Before I took modeling to the next level in my career, I was a barre instructor, which is all about turning ballet moves into strength and cardio workouts. It really helps athletes—all kinds!—with their agility and their reflexes. 
"So when I would plan my lessons as a barre teacher, I would stand in the mirror and pretend I had a class behind me, like I used to in a [ballet] studio. And sometimes, Rob would be like, 'You don't have to pretend you have students! I'll take your class!' And he would come to the barre and I'd teach him some moves, and he's like me—he loves a challenge. He'll try anything he thinks could be difficult! It's a big thing we have in common, we run towards challenges."
Does Camille Kostek Like Modeling?
They also support each other's goals—even if that includes embracing solo photo shoots with decidedly sexy vibes. 
"That's probably one of the reasons why our relationship works," Kostek says. "I'm sure there's a lot of men who maybe wouldn't want to be in a relationship with a woman who's photographed in bikinis, or sometimes with no bikini top at all. But he knows how much my work means to me, and it's the same with him! 
"He's been in ESPN's Body Issue and in GQ looking so sexy. I know there are a lot of people who love him and hang those pictures up in their bedrooms and stuff. And I think it's amazing! Because at the end of the day, when I'm done modeling, I go home to him. And when he's done, he comes home to me! So there's a real sense of ease and trust because we respect and admire each other for working so hard, and achieving things we love."
How Does Camille Kostek Cope With Mental Health Issues?
Besides teaching Gronk how to dance, Kostek is teaching her millions of social media followers the art of self-acceptance. 
"One thing I've learned with Sports Illustrated is you can't compare yourself to anybody else. All the women here are beautiful. They're all so interesting. They're all so powerful. So instead of asking, 'How do I measure up?' I've tried to ask myself, 'What is within me that I want everyone to see?' 
"On Instagram, people only see the highlight reel of your life, you know? But I'm human. Some days I wake up feeling amazing; some days, I'm low energy and I don't feel my best. So I have to kind of stop myself and say, 'Today is the only today you get. How can I make myself a little happier?' And often the answer is, 'I can judge myself a little less. I can root for myself a little more.' 
"The fact is, everyone has their own battles and their own insecurities. And I just think it starts with saying, 'This is me, this is who I am. And I'm going to accept who that is.' Maybe that sounds a little cheesy and sometimes when I tell people that, they laugh. But I swear, it only sounds so silly to people who haven't stopped judging themselves yet. I can help with that, though!" She smiles. "It's a big part of who I am."
Click here to see more of Camille Kostek.