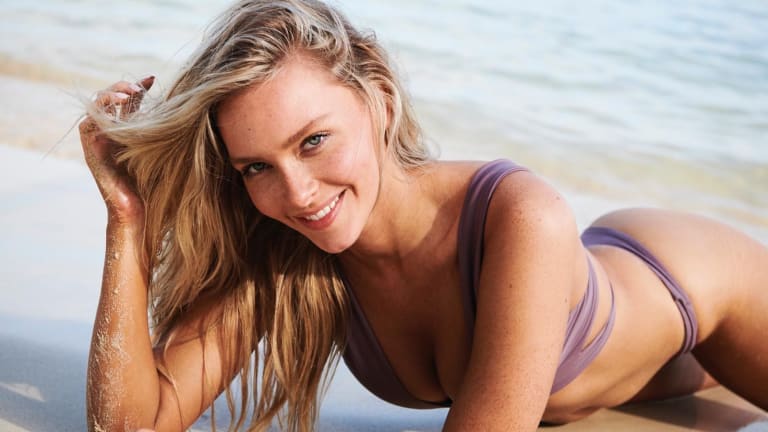 MODEL REVEAL: Last Year's Cover Model Camille Kostek Is Back for SI Swimsuit 2020!
Camille Kostek returns for her second official year with SI Swimsuit!
Last year's cover model Camille Kostek is BACK for SI Swimsuit 2020 and ready to rock her shoot in the Dominican Republic!
As many of you already know, Camille was a part of our first-ever Instagram-based model search, where we invited women who submitted videos online to meet us in Brooklyn and walk in a fashion show at Miami Swim Week. Camille and five fellow #SISwimSearch contestants traveled to Belize for the chance of a lifetime — to shoot for a spread on the pages of SI Swimsuit!
In April of 2019, Camille was surprised in Las Vegas with the news that both she and Haley Kalil would be returning as rookies for the 2019 issue! But her year just kept getting better and better! After a knockout shoot on Kangaroo Island, Camille landed a one of three SI Swimsuit 2019 covers. Talk about a whirlwind ride!
Now as a returning SI Swimsuit 2020 model, Camille hopes to continue to use her new platform to encourage women around the world to love their bodies and embrace their natural beauty.
"I was a dancer, so I always loved watching girls perform and dance and just always looked up to them and their bodies," Camille told us during an interview back in February. "I remembered loving looking at JLo because she had a set of hips. And I think that's what so cool about this day in age is that you do have that reach. Being an older sister and having been a young woman, it's super cool for these women to reach out and share their insecurities or something that they want advice on and kind of being able to be their inspiration. That's like the most fulfilling thing to ever hear."