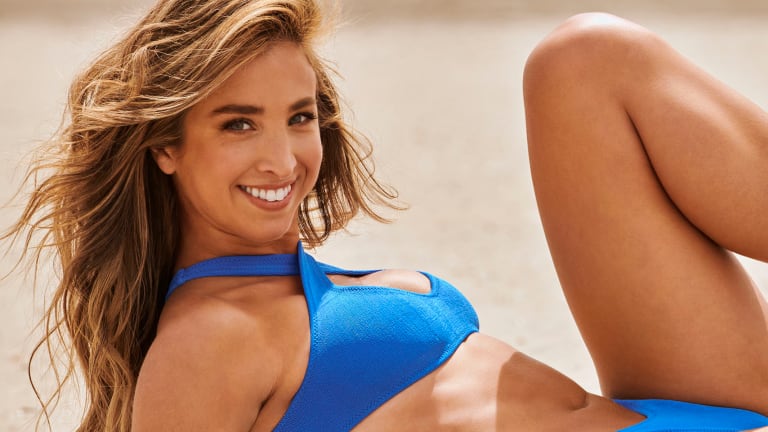 Can You Guess Who Swimsuit Model Katie Austin's Famous Mom Is?
Katie Austin is the daughter of Denise Austin and is a fitness influencer and TV personality. But though Katie shares her mom's passion for exercise, her family's prolific VHS empire stops with her, because although she knows how to make amazing healthy recipes and create booty-sculpting workouts, Katie does not know how to use a VCR!
Denise Austin Made a Fortune on VHS Tapes. Her Daughter Katie Doesn't Know How to Use One.
Some famous kids can't wait to escape their parents. Not Katie Austin. The daughter of fitness legend Denise Austin says she wouldn't have become a Sports Illustrated Swimsuit Issue model if it hadn't been for her mom's encouragement. "I will never get sick of people saying how great my mom is," Katie says, "because it's true! I love that everyone else loves her, too. She is my role model and I look up to her in everything she does. I'm very grateful because I can ask her anything… but I also don't feel pressure to be just like her."
To be fair, Katie did emulate her mother Denise in a recent photo shoot—she wore her mom's famous '80s leotard while training to be a Sports Illustrated Swimsuit Issue model this spring. "I love her '80s and '90s style, but back then, everyone seemed kind of obsessed with being perfect on camera, you know?" she laughs. "That's not right for me. I'm a lot more candid. So I'll have a cocktail while making a video sometimes, and I get these texts from my mom saying, 'Katie, stop drinking tequila on TikTok.' And I'm like, 'Sorry mom. I will never not drink on TikTok.' She doesn't get it."
Katie Watches Her Mom's Videos on YouTube
Of course, Austin admits there are things she doesn't get, either. "My mom's entire career was on VHS. She made these incredible workout videos that millions of people loved, and millions of people used to learn about fitness. We have a bunch of the video cassettes still stored in our house. But if you asked me to play one of them?" Austin laughs. "I would have no idea what to do with it! I don't think I've ever used a VCR in my life. Do they even exist?" asks the 28-year-old. Fortunately, the Virginia native has found other ways to use her mom's old footage as inspiration.
"Everything is on YouTube," she says. "So it's fine!"
Click here to see more of Katie Austin.