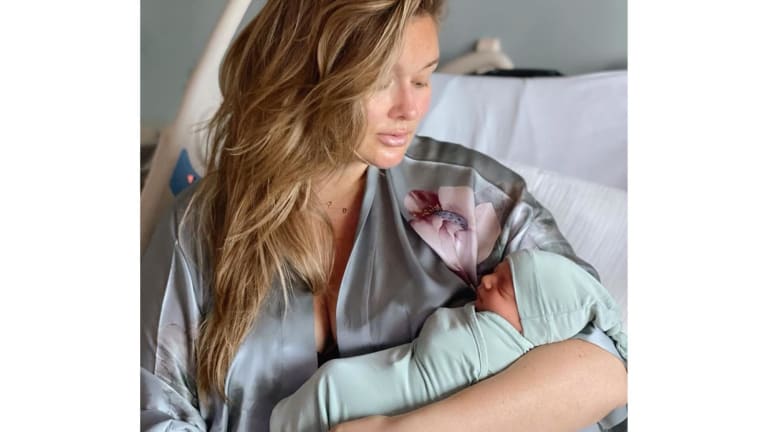 Hunter McGrady Welcomes a Baby Boy
The SI Swimsuit model announces her new arrival.
Designer, podcast host and model Hunter McGrady can now add another title to her impressive resume: mom. The SI Swimsuit staple, who made her magazine debut in 2017, and husband Brian Keys welcomed their son, Hudson Tynan Keys, on June 26.
"I've never known this kind of love," Hunter wrote alongside four snaps of her new bundle of joy. The new mama also shared a post on stories earlier, adding, "I've been enjoying and in pure bliss. Can't wait to introduce you guys to this sweet boy." The body-diversity spokesperson also noted that the baby's middle name is to honor her younger brother Tynan, who died last month.
"I can't wait to tell him how special his middle name is," she wrote.
In May, Hunter took to Instagram to post a stunning maternity photo and share the complicated emotions of being pregnant while grieving the loss of her brother.
"Pregnancy and grieving. Two things you don't think would ever happen simultaneously," she wrote. "It's the loss of one life and the gain of another. As the days have gone on, I have gotten that excitement back and the peace in knowing my brother will live on through my son, and I find so much comfort in that. My son will share the same DNA that ran through my brother."
Although this is McGrady's first child, she's already a stepmother to her husband's daughter from a previous marriage. The couple met on Snapchat in 2016 and were later married in 2019. During that time, Hunter broke barriers by being SI Swimsuit's curviest model ever.
Of course, fellow SI Swimsuit models shared in the excitement of Hunter's baby news. Haley Kalil wrote, "Congratulations love!!!! Such a beautiful family!!!" Our SI Swimsuit editor-in-chief MJ Day also shared a heartfelt note. "Omgomomg can you hear me joy screaming," she wrote. "Congratulations all of you wonderful humans. And the name. I couldn't love it more."