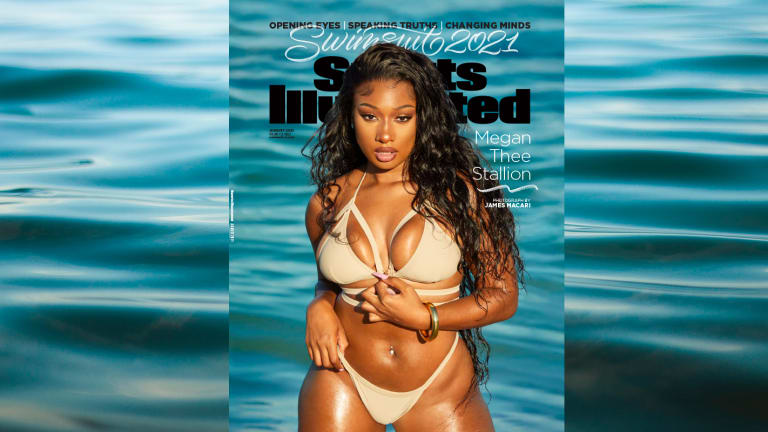 Meet Your Cover Model: Megan Thee Stallion
The definition of "Hot Girl Summer" is one of three SI Swimsuit 2021 cover models.
Making history is the name of the game for Megan Thee Stallion. She was the first woman to top the rap songwriters chart and land three No.1 songs on Billboard's streaming charts in a year. Now, the 26-year-old can add another historical moment to her résumé as the first rapper on the SI Swimsuit cover.
While being a successful rapper was always a dream for the Houston native, Megan's wanted to be on the cover of SI Swimsuit since she was a young girl. "I've wanted to do it all my life," she explained while on set. "I was the little girl looking at the cover of Sports Illustrated saying, 'One day this is going to be me.' And I manifested it."
Megan shot the cover in Miami, Fla. with famed photographer James Macari, donning multiple swimsuits by Fashion Nova. The songwriter also got to sit down (in a hot tub) with SI Swimsuit icon Tyra Banks—who first appeared in the Swimsuit Issue in 1993 and most recently appeared on our cover two years ago. Beyond their shared cover model experience, the two talked about body positivity, opening doors for the next generation and their passion projects.
"Megan Thee Stallion is a magnetic powerhouse taking the world by storm," says SI Swimsuit editor-in-chief MJ Day.
Megan joins two other models for the SI Swimsuit cover—tennis powerhouse Naomi Osaka and activist Leyna Bloom—to mark three separate history-making covers in one of the most challenging years of our lifetime.
"Among the many things we've learned over the past 18 months is how much we value being a part of a community and how much we miss that interaction when it's taken away," says Day. "This issue represents the culmination of our powerful community coming together during these trying times to make history."
Click here to see more of 2021 cover model Megan Thee Stallion. 
Click here to buy the 2021 SI Swimsuit Issue.