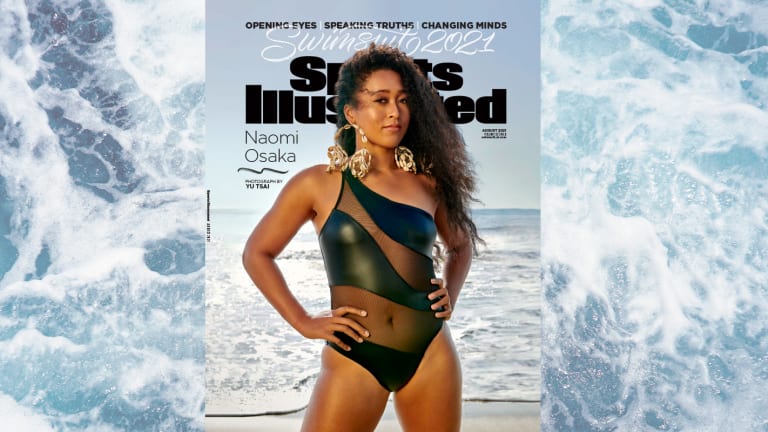 Meet Your Cover Model: Naomi Osaka
The athletic powerhouse holds four Grand Slam titles and is now the first female Black athlete on an SI Swimsuit cover.
Naomi Osaka needs no introduction. At just 23, she is one of the most aggressive tennis players on the circuit and made her WTA Tour debut at 16, defeating former U.S. Open champion Samantha Stosur. Since then, she's captured four Grand Slam titles and will compete in the Olympics this summer. And did we mention she has an impressive 125 mph serve?
But that power isn't just reserved for the court. Naomi is outspoken about racial injustice, human rights and mental health. She was even named one of the 2020 Sports Illustrated Sportspersons of the Year for her activism.
"There's no question that Naomi is one of the best athletes in the world, and a cover spot felt obvious. She's spent her formative years racking up titles and is headed to the Olympics. But we celebrate Naomi for her passion, strength and power geared towards consistently breaking barriers when it comes to equality, social justice, and mental health," says SI Swimsuit editor-in-chief MJ Day.
Naomi posed for photographer Yu Tsai in Malibu, Calif., wearing a stunning swimsuit by Norma Kamali. The pro also chatted with another history-making model--Tyra Banks-- about family, fashion, and the tennis star's hidden fierceness.
Naomi joins two other models for the SI Swimsuit cover—rapper Megan Thee Stallion and activist Leyna Bloom—to mark three separate history-making covers in one of the most challenging years of our lifetime.
"If there's one thing that our cover models have in common, it's that they don't have one thing in common. They look different, have different upbringings, have different passions and inspirations. But each is a reminder that beauty comes in many forms," says Day.
Click here to see more of 2021 cover model Naomi Osaka. 
Click here to buy the 2021 SI Swimsuit Issue.