Publish date:
Anastasia Ashley reveals the story behind a lap dance from Madonna
She's arguably one of the world's hottest surfers. She's an athlete, model and social media maven at some point every day. Oh, and did we mention she also made an appearance in the 2014 SI Swimsuit issue? That's right—it could only be Anastasia Ashley! 
Back in the news thanks to an interview with AskMen, Anastasia is opening up about everything from her social media landscape to her infamous butt. And trust us, when you read that Anastasia has been known to chat with random dudes and fans on Twitter, you'll be itching to figure out how to get your five minutes of fame with her! 
On Ronda Rousey's issue with "Do nothing bitches": "I thought it was really cool and really refreshing that she stood up and said that. I believe the whole quote was her body is athletic and it's made to do something so she does not just lie around and take photos of herself. I think she's a really good example of the new face of what women's sports are about. You don't have to be super masculine; you can still be sexy, have an athletic body and be cool.
"I think there are so many girls nowadays that are basically do nothing bitches, that don't do anything positive with their following or they're just a social media models. You should use your platform to better other people's lives, as cheesy as that sounds. At least if you don't have a career, do something with yourself that's positive." 
On which of her Instagram posts do the best: "Definitely anything with a bikini or specifically a butt-shot. Definitely a classic bikini butt shot is what gets the most engagement and likes and shares and all that stuff, which is funny. What's ironic actually is that my most liked photo ever is a photo of palm trees." 
On Sam Smith's Grammy after-party this year: "Well, randomly I was in Malibu that day with a couple friends and somehow the group ended up at Katy Perry's party first. I wasn't trying to go out. I came straight from a beach barbecue in the 'Bu and was just in a sundress, flats, no makeup, just whatever. I get there and it's Katy Perry, Madonna, Miley Cyrus. Totally insane..next thing I know I was dancing with Madonna and Miley Cyrus. Then I don't know how, but I basically got in the entourage and ended up at Sam Smith's party where it was all the biggest celebrities...You were at that party, it was like every relevant celebrity was literally bumping into you. I was dirty dancing with Madonna.
[What do you mean by dirty dancing?] "Grinding, twerking. She groped me and then gave me a lap dance."
How's that for making a splash?! To learn more about her advice to woo a woman and her craziest surfing experience, be sure to read the full article online now. 
BONUS: See some of Anastasia's best moments from SI Swimsuit 2014!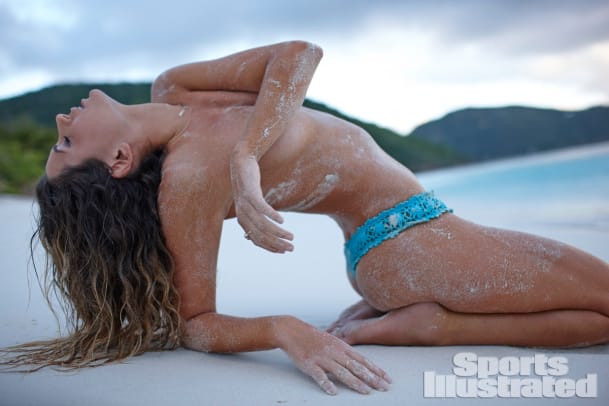 RELATED CONTENT
Anastasia Ashley continues to prove she's the 'world's hottest surfer'
Anastasia Ashley hits the waves in a new drone-shot surf video!