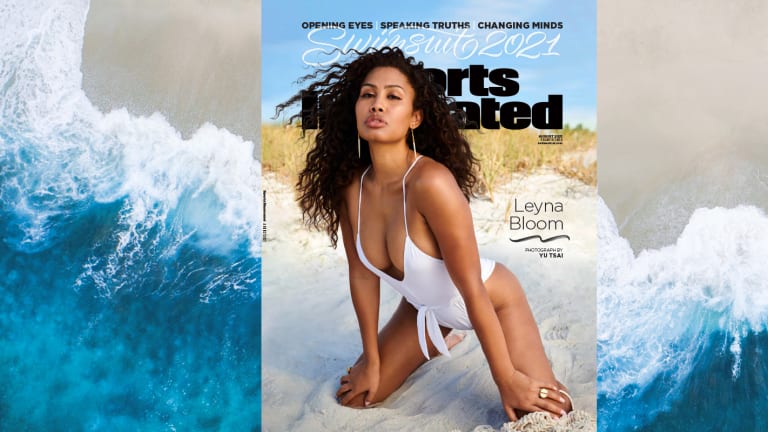 Meet Your Cover Model: Leyna Bloom
The model and activist makes history as one of three 2021 cover models.
Leyna Bloom isn't just breaking barriers; she's single-handedly tearing them down. The 27-year-old got her start in the ballroom dance community and went on to become one of the few openly transgender models to walk the runway during New York Fashion Week in 2017. She was also the first transgender woman of color to appear in Vogue India and was the first transgender woman of color in a leading film role in Cannes Film Festival history. So, it seems only fitting Leyna would make history again as the first transgender cover model in Sports Illustrated Swimsuit history and the first trans person of color to appear on our pages.
"Leyna is legendary in the world of activism, strikingly gorgeous, and has an undeniable sense of self that shines through the minute she walks on set," says SI Swimsuit editor-in-chief MJ Day. "We are honored to have her in this year's issue and understand the effect it will have on so many others. She joins our team, not because of what she represents but because of her beauty, commitment, and desire to leave the world a better place."
Leyna—who was photographed by Yu Tsai in a Gil Rodriguez swimsuit at TK Hard Rock Hotel & Casino—uses her platform to inspire others to love themselves and be who they want to be.
"I think there are people in this world that are born to do certain things or have certain conversations that need to be had," she told us. "And there are certain trials and tribulations and even beautiful moments they've had in their lives that put them on this journey to have these moments. I knew as a very young child that I had to do something. So this is the lane I've chosen to walk down to make moments that are not just about being beautiful."
Leyna joins two other models for the SI Swimsuit cover—rapper Megan Thee Stallion and tennis pro Naomi Osaka—to mark three separate history-making covers.
"If there's one thing that our cover models have in common, it's that they don't have one thing in common. They look different, have different upbringings, have different passions and inspirations. But each is a reminder that beauty comes in many forms," says Day.
Click here to see more of 2021 cover model Leyna Bloom. 
Click here to buy the 2021 SI Swimsuit Issue.