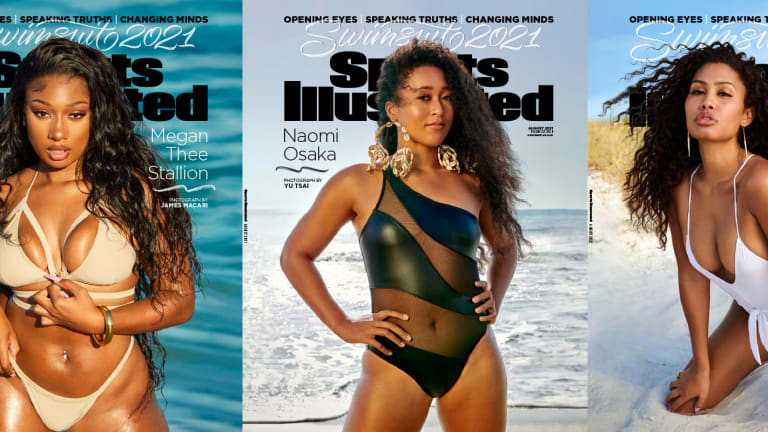 Your Sports Illustrated Swimsuit 2021 Cover Models Are Megan Thee Stallion, Naomi Osaka and Leyna Bloom
Three Women. Three History-Making Covers.
The wait is finally over. Megan Thee Stallion, Naomi Osaka, and Leyna Bloom are your SI Swimsuit 2021 cover models. The three legends were photographed separately in locations across the U.S. from Florida to California. The result is three separate history-making covers showcasing three groundbreaking women.
"If there's one thing that our cover models have in common, it's that they don't have one thing in common. They look different, have different upbringings, have different passions and inspirations. But each is a reminder that beauty comes in many forms," says Sports Illustrated Swimsuit editor-in-chief MJ Day.
Megan Thee Stallion is no stranger to magazine covers, but the rapper and songwriter always dreamed of being on the cover of SI Swimsuit. She remembers as a young girl looking at the magazine and saying, "One day, this is going to be me." A couple of decades later, the Houston native would have several Grammy's under her belt and make history as the first rapper on the SI Swimsuit cover. And she's the perfect fit.
The 26-year-old is known for her unapologetic attitude about being herself and even trademarked "Hot Girl Summer," a phrase (and song title) that's now fully enmeshed in the cultural zeitgeist. Exuding this level of confidence and female empowerment is something that SI Swimsuit looks for in its models.
As Day wrote, "Megan Thee Stallion doesn't stay in one lane. In fact, she encourages everyone to be in multiple, and this is what we love about her. She captured the world's attention with her music and style, but what caught our attention was her unfiltered approach to the way she makes you think. She uses her platform to push boundaries, dissect societal norms and encourage humans to think about the backward way our society continues to operate. Megan is a vessel for change, and we are honored to have her on our 2021 cover."
Naomi Osaka is no doubt an athletic powerhouse. At 23, she holds four Grand Slam titles and is headed to Tokyo to compete in the Olympics. This comes after defeating former U.S. Open champion Samantha Stosur in her WTA Tour debut at just 16. Since then, her aggressive playing style and 125 mph serve stand out in the tennis world and have made Naomi one of the most marketable athletes.
But it's her strength and power off the court that make Naomi a true legend. She's raised awareness about racial injustice, human rights and mental health, cementing her as one of the most outspoken professional tennis players. She was named one of the 2020 Sports Illustrated Sportspersons of the Year for her activism and was on Time's annual list of the 100 most influential people in the world in 2019 and 2020. The pro gets to add another title to her extensive résumé: the first female Black athlete on an SI Swimsuit cover.
"What drew us to Naomi was her passion, strength and power geared toward consistently breaking barriers when it comes to equality, social justice and mental health. She is wholeheartedly dedicated to achieving the impossible and has succeeded time and again. We are so honored to have one of the fiercest female trailblazers in history as one of our 2021 covers," says Day.
Leyna Bloom began her rise to fame in the ballroom dance community and has since broken numerous barriers in the modeling world. She was one of the few openly transgender models to walk the runway during New York Fashion Week in 2017 and was the first transgender woman of color to appear in Vogue India. And how about acting? Yes, she's tackling that too. Leyna made her acting debut in the film Port Authority, marking the first film in Cannes Film Festival history that featured a transgender woman of color in a leading role. Now, Leyna makes history yet again as the first transgender cover model in Sports Illustrated Swimsuit history and the first trans person of color to appear on our pages.
More importantly, the 27-year-old uses this platform to speak out about acceptance, love and change. She's passionate about inspiring others to love themselves and be who they want to be.
"Leyna is legendary in the world of activism, strikingly gorgeous, and has an undeniable sense of self that shines through the minute she walks on set," says Day. "Her story represents one grounded in resilience, and we couldn't be more thrilled to help her tell it. Her presence as the first trans woman of color to be in our issue is a result of her lifetime dedication to forging her own path."
Day adds, "Among the many things we've learned over the past 18 months is how much we value being a part of a community and how much we miss that interaction when it's taken away. This issue represents the culmination of our powerful community coming together during these trying times to make history."
Click here to see more of your 2021 cover models Megan Thee Stallion, Naomi Osaka and Leyna Bloom. 
Click here to buy the 2021 SI Swimsuit Issue.