Publish date:
Looking back on the week when Ronda Rousey ruled the Internet
Last week may be remembered for llamas and an ugly, controversial dress, but we'll be damned if this week doesn't go down in the books as the unofficial "Ronda Rousey Week."
After her unforgettable take down of Cat Zingano, Ronda became an immediate Internet sensation. From GIFs of her celebration to memes of her post-fight interviews, it would be hard to find a media outlet that didn't cover the UFC star in the last seven days. 
So you might be asking, what could possibly be left? 
Despite the influx of "Rowdy Ronda" news, we came across four clips from the week that we simply couldn't resist sharing.
First there was a unique, creative and oh-so-accurate portrayal of Ronda's fight last week in...clay. Hard to believe, right? Instagram user azxd seems to be a wizard with magical sculpting skills, because his "stopmotion animation" version of the fight is one for the books. 
Then there were the highlights from an open workout in LA, in which Ronda proves her ability to captivate and dominate any opponent, audience or disbeliever. Going up against a male (*gasp*) of comparable size, Ronda demonstrates some of her signature moves and continues to strengthen our own personal fear of ever making her angry.
And did we mention how fantastic her braids and bun look? A girl who fights in style—we like that. 

As if showing that she could take a man on in practice wasn't enough, Ronda went on ESPN's SportsCenter and responded to UFC announcer Joe Rogan's statement that he believes she "might be able to beat 50 percent of UFC male batamweight fighters." 
So what did Ronda have to say to that? "I never say that I'm incapable of beating anybody, because I don't believe in putting limits on myself," Ronda replied. "So I mean, I would have to say if you're just talking about what's in the realm of possibility...well, I could beat 100 percent of them."
We totally believe she could do it, too. 
And lastly, as if Ronda hadn't already proved this week that she just might be capable of ruling the world, she had to go and break the ribs of a skeptic. While being interviewed by Aaron Tru—who stupidly joked that he didn't think she had what it takes to throw him down—Ronda literally broke his ribs and left no doubt as to her abilities. 
So in this instance, it only seems appropriate to cue the lyrics from another powerful (in a very different way) woman..."Haters gonna hate, hate, hate, hate, hate."
BONUS: See some of Ronda Rousey's best moments from SI Swimsuit 2015!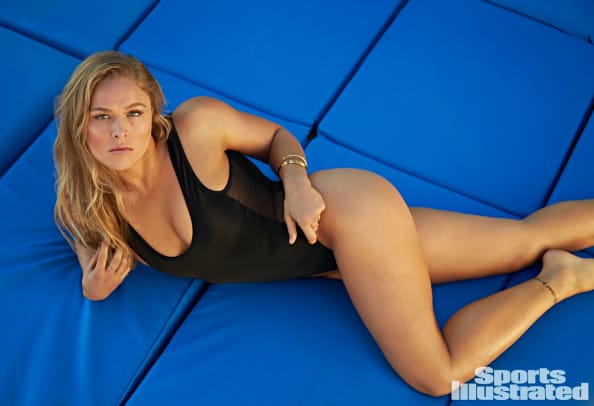 RELATED CONTENT
SI Swimsuit model Ronda Rousey defends UFC title in just 14 seconds!
​
Ronda Rousey shows off her judo skills, hurts interviewer