The world is filled with thousands of spas ranging from simple to over-the-top luxurious. And while many try to compete by offering unique services like ayurvedic healing and shaman-blessed massages, there's one hotel that might have created the most novel spa menu: the Hard Rock Hotel & Casino Atlantic City. Why? Well, the property is home to the world's first fully music-centric spa.
Located right on the famous boardwalk, the Hard Rock Hotel & Casino Atlantic City stays true to its musical theme. In addition to 365 days of live entertainment, live-action gaming, a high-energy casino floor, and award-winning dining, the 2,000-room hotel is home to the Rock Spa & Salon with a musical twist on traditional treatments.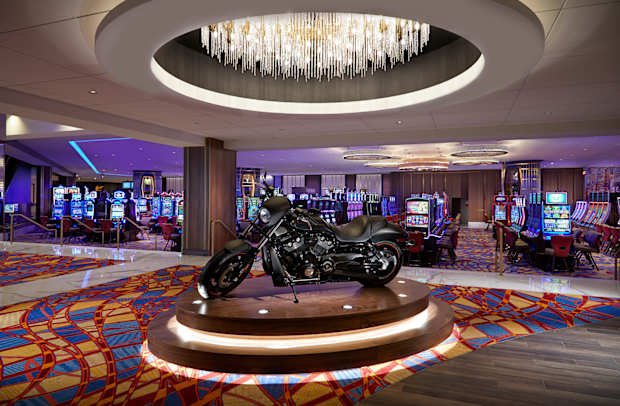 Described as "More Zeppelin than Zen," the brand's one-of-a-kind Rhythm & Motion menu features treatments that use vibrations, pressures, and patterns found in music. For example, the rhythmic massage journey uses bass vibrations that can be felt through the massage table and treble beats create pulses throughout the body. Or, the Synchronicity massage uses similar rhythm pulses with a curated playlist to elicit memories while soothing muscle tension.
Of course, the spa isn't the only unique music feature of the hotel. It's also home to memorabilia that focuses on New Jersey-born and bred artists like Lauryn Hill, Frank Sinatra, Nancy Sinatra, Bon Jovi, Whitney Houston and Bruce Springsteen. You'll also see rare finds like the silk suit Prince wore to the 1988 Grammy Awards, handwritten lyrics from an unreleased Drake song, an ostrich-feather gown worn by Lady Gaga in a magazine shoot, and Elvis's iconic Rolls Royce Phantom V.
With such a vibrant backdrop (not to mention a prime beachfront location), it's no surprise SI Swimsuit chose the hotel as a spot for its 2021 photoshoot with SI Swim Search finalists. Models like Amanda Kay, Katie Austin, and Allie Ayers Lindsey showed off their photogenic skills over several chilly beach days in May.
Accommodations by:
Hard Rock Hotel & Casino Atlantic City
1000 Boardwalk, Atlantic City, NJ 08401
609-449-1000
hardrockhotelatlanticcity.com
2,000 rooms
Prices vary