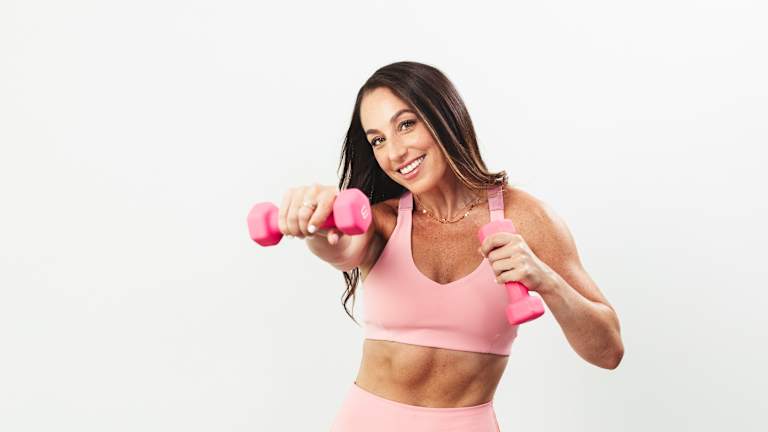 Sydney Miller's HOUSEWORK Makes Working Out Feel Like a Party
Sydney Miller is making her fans break a sweat on and off the bike.
If you know SoulCycle, then chances are you're one of Sydney Miller's cult followers and you know this girl can make you sweat. Off the bike, Sydney launched her Pilates x HIIT fitness method HOUSEWORK, a live-streamed and on-demand workout class set to the beat to electronic and house music. Sign! Us! Up!
We sat down with Sydney to give you an inside look into HOUSEWORK and what you can expect from one of her legendary classes.
Bonus: Give one of Sydney's HOUSEWORK classes a try!
How did you get your start in the fitness industry?
I'm a Miami native and founder of the HOUSEWORK workout. After graduating from Emory University, I moved to New York City to pursue a career in advertising and public relations. My work left me feeling fried, unfulfilled and uninspired. During that time, working out at SoulCycle became an outlet for me. I loved the community fitness experience and realized my passion for fitness. In 2012, I left the advertising and PR world and began my career in fitness, and I've been a SoulCycle Instructor ever since. Along the way, I also fell in love with Pilates and received my certification. In 2018, I began to create my own method, combining Pilates with HIIT to make a more challenging, fun, sweaty experience. HOUSEWORK was born in 2018, and since then, it's grown into a full online digital community, a fitness app and series of in-person pop-ups in Miami.
How do you measure the success of your clients or classes? 
My biggest measure of success is how people feel after they've completed my class. One of my goals when building HOUSEWORK was to create an experience that is not only a good workout but also fun and motivating. One of my clients had never taken a group fitness class before starting HOUSEWORK six months ago, and now she attends almost all of my live classes and looks and feels better than she ever has. To me, that's a success.
Working out at home can be daunting. What is one way you suggest people stay focused and motivated to work out even during quarantine?

Zoom workouts are a great way to stay accountable to fitness goals and also connect with others. Because you're required to sign up and pay for the class in advance, you're forced to block time in your day to work out and there is an extra incentive to attend class so you don't waste money. My live classes are high energy and I always recommend that people keep their camera on as an extra layer of accountability. No one else is closely watching them during the workout, but it gives me an opportunity to amp people up or provide additional instruction during the class. Also, glancing at a screen full of people who are also crushing their workout creates a sense of community and makes the workout more fun!
What is the best fitness tip you've ever received?
Pay attention to your breath. It is so easy to forget about breath during a workout when you're concentrating on a sequence, but breathing properly can actually help improve your endurance and also work the muscles harder. For example, exhaling like you're trying to blow out birthday candles will work your abs harder than exhaling through your nose.
What about the worst?
I've been lucky to be surrounded by a phenomenal community of mentors throughout my fitness career who have shared only good tips with me.
What can viewers expect from one of your virtual classes?
If you attend one of my live HOUSEWORK classes, you can expect a challenging but fun workout with an overall in-studio, community vibe. The workout itself is mostly low-impact and set to the beat of house music. Expect tons of shoutouts and motivation boosts along the way. I love interacting with people during class— another reason why I ask everyone to keep their cameras on! At the end of class, I stick around on Zoom to answer anyone's questions about the workout and catch up.
What's your go-to routine before and after a good workout?
I usually teach in the morning, so I have my coffee while looking over my class notes and getting my head in the game. I recommend that people taking my live class log on a few minutes early so they can get their space set up, adjust the audio on their computer and take a few moments to center their energy before we dive into the workout.
After class, I chat with attendees and once I'm logged off, I immediately hydrate and hop in the shower! If you're working out on your own time, take five minutes to stretch after class. Your workout isn't complete until you stretch! Taking a few minutes to do so will help your muscles recover faster and be ready for your next workout. This also gives you a chance to collect your thoughts before you jump back into the craziness of your day.
What are some suggested equipment viewers should consider adding to their at-home gym?
My favorite workout equipment is a set of sliders — they really elevate basic exercises to add a level of instability that forces you to use your core. I recommend this set to my classes.
Where can viewers find more from you?
I teach a LIVE class on Zoom virtually five days a week and I also have tons of on-demand content on my app. You can also find me on Instagram @sydmiller and @houseworkoffical.