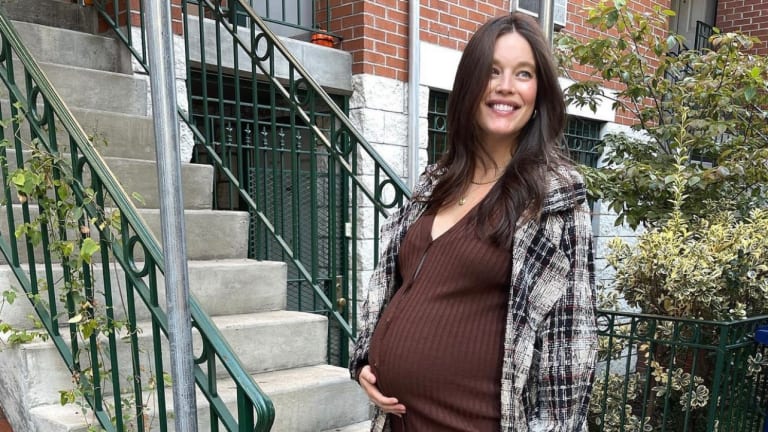 Emily DiDonato Welcomes Baby Girl
The SI Swimsuit model became a mom over Thanksgiving.
Talk about something to be grateful for! Emily DiDonato officially became a mom just before Thanksgiving when she and husband Kyle Pearson welcomed a daughter on November 23.
"She's here, and she's perfect," wrote the SI Swimsuit model alongside a picture moments after giving birth. "After just 15 minutes of pushing, this cutie entered the world at 9:44 p.m. on 11/23/21 at 8 pounds 10 oz. We are so in love with you already, sweet girl! Happy Thanksgiving!"
Fellow models were quick to congratulate the new mom. "Congratulations," wrote Lily Aldridge. Kate Bock added, "That's my girl!" And SI Swimsuit editor in chief MJ Day left a sweet note writing, "Best Thanksgiving ever. Congratulations Emily! So much love to you and your beautiful family!"
While the new mom has yet to reveal the name of her baby girl, she has been very open with followers about the first few days of motherhood. First, DiDonato shared her labor process as she was experiencing it, then later added more photos and details about everything from her contraction timing app to getting an epidural. And over the weekend, the influencer answered fan questions about things like how tired she is, if she's breastfeeding, and even what it was like to go to the bathroom the first time after giving birth.
One thing DiDonato would not comment on was losing the baby weight. A fan asked, "What is the plan to decrease overweight and go back to a flat stomach." DiDonato clapped back with a photo of her eyes rolled back and asked Instagram to ban the account that asked the questions.
So far, the Covey skincare founder has only shared a couple of photos of her baby. But DiDonato did post a flashback-type photo of her bump, writing, "Kissed that sweet bump goodbye. Until next time!"
Given the model is known for being an open book about her life, we're bound to get more insight into life with her bundle of joy.