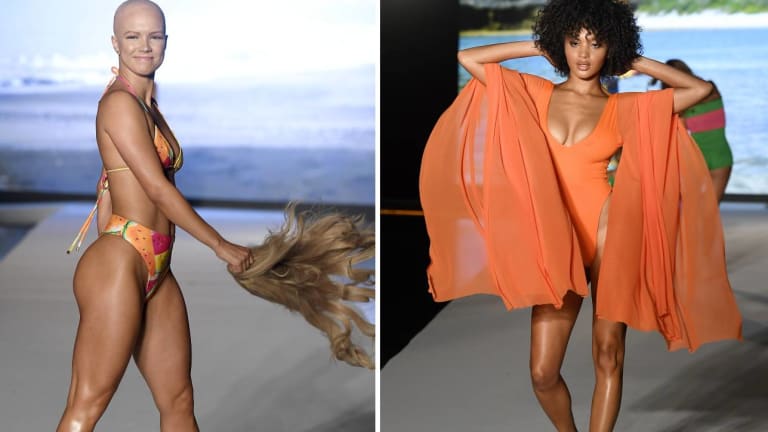 Meet the #SISwimSearch FINAL SIX Who Will Shoot a Spread for SI Swimsuit 2020!
The six finalists from this year's model search competition will travel to Turks & Caicos.
This year's #SISwimSearch hopefuls were so sweet, 16 just wasn't enough! So many incredible women auditioned for this year's annual Sports Illustrated Swimsuit open casting call, that narrowing things down was no easy task. But after some tough deliberations, we were thrilled to find such a diverse, empowering, and strong group of women to represent SI Swimsuit in our #SISwimSearch fashion show in Miami at W South Beach back in July.
The Sweet 17 exceeded expectations and have continued to use their new platform since the show to promote beauty, diversity and self-love. In a surprise turn of events, one finalist, JooJoo Hwang, even jumped ahead, becoming an official SI Swimsuit rookie for the 2020 issue!
But alas, now it's time to announce the six women who will move forward as part of this year's model search competition and shoot a spread for the magazine in beautiful Turks & Caicos.
So without further ado...
Name: Tanaye White
Hometown: Southington, CT
"A few months prior to my first try at the 2018 SI Swimsuit Model Search, a friend and I were sharing our goals and passions, and I admitted for the first time to anyone that I had always dreamed of becoming an SI Swimsuit model. Not too long after, I saw the flyer for their open casting call. I thought it was fate. And I made it so close last year that I knew I had to give it one more chance in 2019."
Instagram: @tanayedubz
Name: Christie Valdiserri
Hometown: Philadelphia, PA
"I was inspired to attend the Model Search in Miami when I finally had enough strength and confidence in myself as a bald woman...When I saw interviews of MJ Day speaking about there being NO rules and then saw Winnie Harlow, Hunter McGrady and Halima Aden all over SI Swimsuit, I knew this was my moment to be a voice for all the women and young girls who cry every day because they just want to feel normal again."
Instagram: @christie.valdiserri
Name: Brielle Anyea
Hometown: Baltimore, MD
"Inclusion and representation are important for me when it comes to fashion and media. After I started getting jobs, it gave me the energy to keep trying for the bigger opportunities. It would be amazing to see a model like myself in the magazine as that would be a first!"
Instagram: @missesbrielle
Name: Clarissa Bowers
Hometown: Umatilla, FL
"I've admired SI Swimsuit's efforts to show the beauty of all women, regardless of shape, size, or skin color, for years. When I heard that they were holding an open casting call, I knew I needed to be a part of it, or I would always wonder 'what if.' And one of my goals in life is to never have to look back and say, 'what if.'"
Instagram: @clarissabowers
Name: Kathy Jacobs
Hometown: Calabasas, CA
"I've entered the SI Swimsuit Model Search and flown to Miami twice. The first time I didn't make it past the first round. But I didn't give up! I felt a burning desire to try again and to be part of a change in the way society views women over 50."
Instagram: @ageisbeauty
Name: Jamea Lynne Byrd
Hometown: Philadelphia, PA
"Last year I went to the model casting in New York, I ended up not getting it. I knew I wanted to try again and fortunately this year, I was in Miami during the open casting call, so my agent told me that I should try out again. Of course, I didn't think twice!"
Instagram: @jamealynee