Publish date:
Erin Heatherton proves you can look hot while cheering on your NFL team
Erin Heatherton LOVES Chicago sports. If you ever get five minutes to chat with the gorgeous SI Swimsuit rookie, you'll undoubtedly hear her profess her loyalty to the Bears and Bulls. 
So it comes as no surprise that when we caught up with our newest blonde bombshell at the NFL Apparel Style Showdown, she reminded us once again of her intense fandom that comes from an upbringing in a sports-obsessed family. "I grew up with two sports-fanatic parents, and in our family, there's nothing bigger in the year than the NFL season." 
And as a new brand ambassador for the line of female-focused NFL gear, Erin now gets to combine her love of sports and fashion in one project. "I love representing NFL Women's Apparel, because it takes on life and meaning far beyond just fashion," Erin explained.
In addition to a new collection of womenswear, the NFL is launching a year-long celebration for Super Bowl 50, which will be played on Sunday, February 7, 2016, at Levi's Stadium in the San Francisco Bay Area. 
"We are excited to celebrate Super Bowl 50 by creating custom apparel featuring gold elements to celebrate this year's game," said Rhiannon Madden, NFL Vice President Consumer Products. "We strive to give our fans more ways to showcase their passion for football by offering options that are individually customizable and on-trend."
Erin was joined at the event by TV personality Erin Andrews, fashion blogger Jamie Chung and NFL legend Tony Richardson. 
Want another example of Erin's sports-obsessive nature? Be on the lookout for our girl on the pitchers mound at Citi Field as she throws out the opening pitch for the Mets on October 3rd! 
BONUS: See some of Erin's best moments from SI Swimsuit 2015!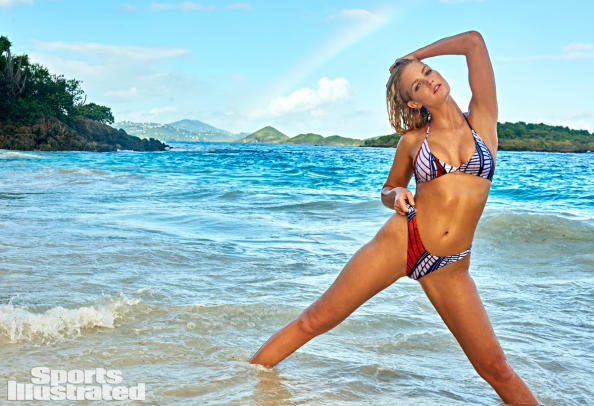 RELATED CONTENT
Erin Heatherton helps Nina Agdal find the perfect match on Tinder