Publish date:
Gigi Hadid, Sara Sampaio & Lily Aldridge spread their wings at the Victoria's Secret Fashion Show!
Every year when the Victoria's Secret Fashion Show comes around, men and women around the world watch with awestruck wonder as some of the world's most beautiful "angels" walk down a pink runway in nothing but their underwear for the world to see. That is, most men watch for obvious reasons, and most women watch out of adoration and use the show as a source for workout inspiration. 
So it should come as no surprise that when you add three current SI Swimsuit models to the mix, the results are even more enviable. Gigi Hadid, Lily Aldridge and Sara Sampaio all joined the star-studded cast for arguably one of the company's most highly-anticipated shows of all time, and their additions did not disappoint. 
Gigi stirred up hype for the show late last month, as the brand revealed a video of the moment when she found out she'd be walking the show for the first time—and her reaction was PRICELESS.  
Then there's Sara, no newbie to the VS runway, who received her wings this year and promptly took her place with confidence and pride as one of the show's ten new Angels.  
Last, but certainly not least, our girl Lily, who's been an Angel since 2010, was the lucky one selected to wear the $2 million Fantasy Bra for this year's main event. And did we mention that we fell even more madly in love with Lily upon seeing her Instagram photo of a post-show pizza gorging session? 
In a 20th anniversary show for the ages, VS really outdid themselves with everything from A-list talent and models to the wildest lingerie you've ever laid your eyes on. Cheers to our girls who represented well and to all of the gorgeous ladies who were a part of this year's show—we can't wait to watch the finished product when the VS Fashion Show airs on Dec. 8 at 10pm on CBS. 
BONUS: See some of Gigi, Lily & Sara's best shots from SI Swimsuit 2015!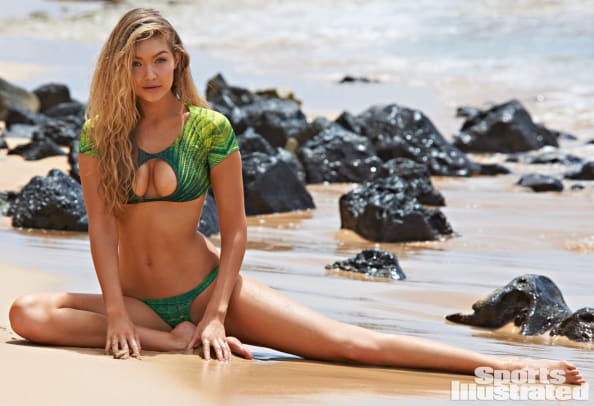 RELATED CONTENT
Gigi Hadid has the cutest reaction ever to learning she'll walk in the Victoria's Secret fashion show
​
Lily Aldridge is our fantasy come to life in the new VS Fantasy Bra