Publish date:
Irina Shayk wraps up NYFW with an unforgettable striptease
Remember when we pointed out on Monday that Irina Shayk has a knack for making her loudest fashion statements on Instagram? Well, she's gone and done it again! 
As part of a new project called "Good Times" on Vogue.com, Irina and her fellow possee of catwalk superstars team up with Young Thug to show off some of the most goovy and fun looks from NYFW. 
Stunning in an Oscar de la Renta ruby fil coupe poppy jacquard capelet with ruffle detail and ribbon closure, Irina channels her "inner Ava Gardener" as she rocks out to tunes by Jamie XX and Young Thug. But that's not what you clicked for, is it? 
See below for Irina's saucy striptease that'll leave you swooning over her flawless figure for days. 
And as if that weren't enough for your Thursday afternoon, Irina shared a second video showcasing the infamous crotched bikinis from the Tommy Hilfiger collection that another SI Swimsuit regular (Gigi Hadid!) made a hit during fashion week. 
Needless to say, we're indebted to Vogue for enlisting beauties like SI Swimsuit's own Irina Shayk and Emily Ratajkowski to showcase the best of the upcoming season. After all, who could make the runway's hottest pieces look even hotter than the hottest girls in the world?   
BONUS: See some of Irina's best moments from SI Swimsuit 2014 & 2015!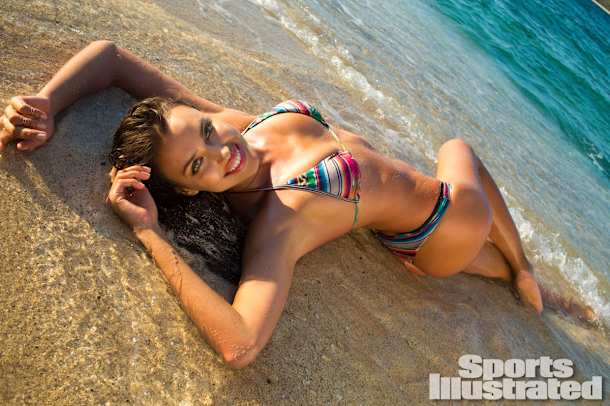 RELATED CONTENT
It was all about nudity on Irina Shayk's Instagram feed this weekend
A bikini-clad Irina Shayk heats up the Jersey Shore with Bradley Cooper