Publish date:
Ronda Rousey visits The Tonight Show, people can't keep their eyes up
If you didn't stay up last night to watch The Tonight Show Starring Jimmy Fallon, boy, oh boy, did you miss out!
Much to our delight, UFC Champ Ronda Rousey stopped by to chat about everything from her upcoming UFC193 fight to her favorite buffalo wings and beyond. She even addressed those infamous remarks about male-fighter Floyd Mayweather, who has a reputation for not treating women so nicely.  
We have as hard a time as The Tonight Show host does believing that Floyd doesn't know who Ronda Rousey is, and we're willing to bet that if there ever happens to be a chance encounter between the two, it's not only a verbal smackdown that Ronda will be delivering. 
• Ronda Rousey discusses her sex symbol status
Ronda went on to do a little trash talking about her upcoming opponent, Holly Holm, and wasted no time challenging Jimmy to a rematch on Mario Cart, post fight and post rehab for his infamous hurt finger. 
And while all of that is good and well, let's be honest—did you even hear a word that Ronda was saying? Talk about being DRESSED TO KILL. Ronda's cleavage-baring, sheer black dress left little to the imagination and had men (and women, to be honest) around the world struggling to keep their eyes up. Can you blame them? 
BONUS: See some of Ronda's best moments from SI Swimsuit 2015!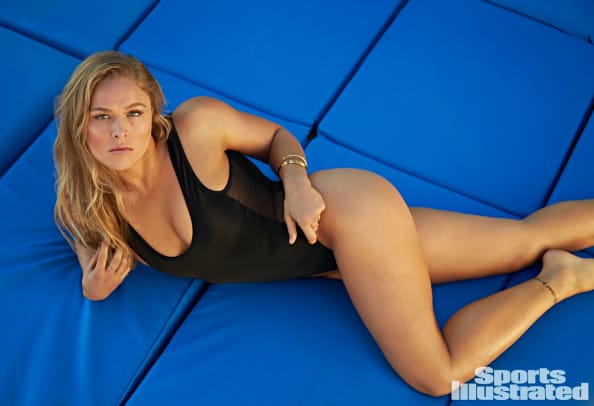 RELATED CONTENT
MUST SEE: Ronda Rousey explains why she gets 'scared of fighting'
Ronda Rousey has serious moves in her 2015 SI Swimsuit outtakes!