Publish date:
Rookies who rocked 2014: Samantha Hoopes
LET'S CAP OFF our first full week back in the swing of things with small-town girl turned LA-based jaw dropper, 2014 rookie Samantha Hoopes. 
Samantha had been going full-throttle with her modeling career for barely three months when we invited her to join us in St. Lucia for a modest little body painting shoot with Walter Iooss. By that point Sam had already been plucked out of obscurity by GUESS founder Paul Marciano, so suffice it to say the 23-year old barely had a moment to breathe before skyrocketing from "just another pretty face" to bombshell status. 
Speaking of that pretty face...
Here's 2014 in Samantha's words:
Holy sh*t moment: When I landed my spot on my first TV show, Guy Code. I couldn't believe people actually thought I was funny, or that they saw television potential in me!
Biggest lesson learned: 
Favorite red carpet look: The Michael Costello black mini dress I wore to the Maxim Top 100 party (left)
Favorite shoot: A bikini shoot in Hawaii. It was amazing because the location was gorgeous and although I was working, I felt like I was on vacation. :) 
Best thing I ate: Truffle fries and bacon guac
Best movie I saw: Bridesmaids
Best book I read: The Alchemist
Favorite new musical artist: Flume
Place I visited: St. Barts
​Something I crossed off my bucket list: Flying in a tiny commuter jet from St. Maarten to St. Barts — scary sh*t!
My New Year's resolution: To not put things off, but rather take care of them right away. Why wait to start something when you can do it today?
Here's what we loved from Samantha Hoopes' breakout year:
She blessed us with a very leggy Launch Week...
...meanwhile Samantha's ever-popular Instagramfeed (the year saw her followers go from in the hundreds to in the hundreds of thousands) was all about her other assets.
She fit in swimmingly as the latest SI Swimsuit model-turned-Beach Bunny...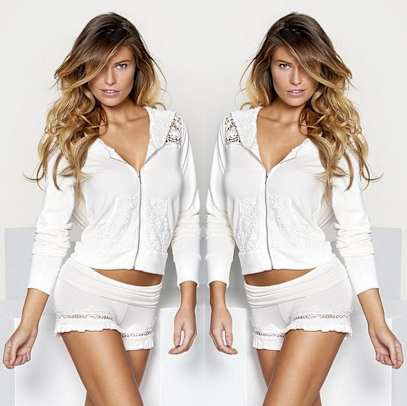 ...which scored Sam her first runway gig at Miami Swim Week...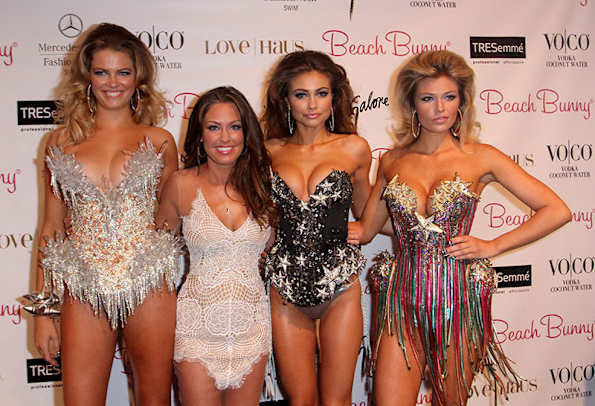 ...and scored you some lovely eye-candy.
Small town girl? Sure. Demure girl next door? Not Samantha. Case in point: 1) this shoot...

...and 2) this one. 
We enjoyed (and still look forward to) a steady stream of GUESS campaign photos in which she convinces us we need head-to-toe denim, fringed everything and, hell, why not, a Stetson.
She made heart rates across the country soar, but hearts beat loudest in Samantha's home city of Philadelphia (a one-hour drive from Doylestown). And in November she graced the cover of Philadelphia Style.

Before Philly Style, Samantha shot for a magazine you might be a little more familiar with...
[embed:7790176​]
...and then there's that one shoot we're very familiar with.

We love a good sport!
Bring on 2015!
This chick ain't scurred.
RELATED
Rookies who rocked 2014: Hannah Ferguson
Rookies who rocked 2014: Gigi Hadid
Rookies who rocked 2014: Sara Sampaio