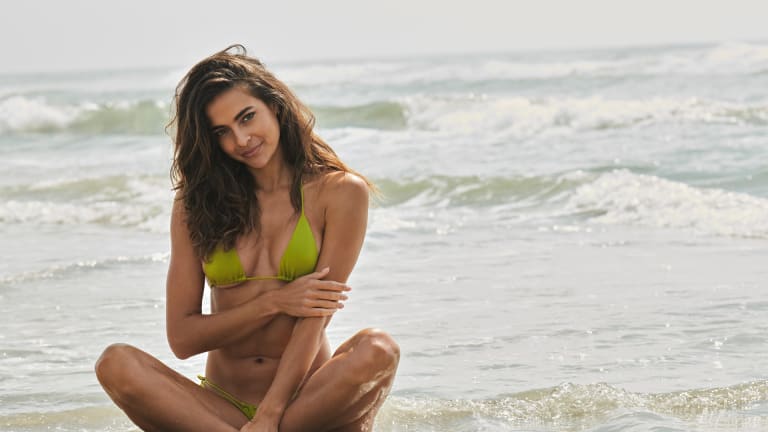 Ally Courtnall on Choosing Between Modeling and the Olympics
After playing NCAA women's soccer and running track for UCLA, Ally Courtnall had a choice: She could train for a possible spot on the Olympic team or take a step back and learn how to be athletic without being an athlete. Here's how she turned her soccer goals into life goals.
Should NCAA Athletes Make More Money Than Swimsuit Models? We Asked One Who's Both.
Ally Courtnall is a Sports Illustrated Swimsuit Issue rookie and a college star who played soccer and ran track for UCLA. But after graduating from school in 2015, the daughter of NHL alum Russ Courtnall had a difficult decision: train for a possible Olympic spot on the women's soccer team, or take a break from team sports for the first time in her entire life. 
"I didn't know who I was if I wasn't an athlete," she says. "My whole life, I had been defined by my performance on the field. My body was beat up, but so was my mind. I had some experience with anxiety and depression. And I knew I just had to put my health first."
Courtnall admits to having a post-grad "identity crisis" until she discovered modeling, "which was so scary and so fun at the same time that I thought, 'Well, I'll never be bored doing this!'" She also found "a new kind of team" with the Sports Illustrated Swimsuit Issue rookies, including fellow former athletes like Alex Aust (lacrosse) and Katrina Scott of Tone It Up.
How This Former NCAA Player Is Helping College Athletes Cash In
And just after her Sports Illustrated Swimsuit Issue shoot, Ally Courtnall returned to UCLA to counsel current athletes about "how to maximize the opportunities and build their platform," so they have more options and experience after leaving the NCAA. 
"My boyfriend [Vikings linebacker Eric Kendricks] and I really support student athletes being able to make money because when we were at UCLA, commercials played on primetime games. I was on so many calendars and posters. [Eric] had jerseys with his name and number sold on them. And that was amazing for us, but the school made money from that, even though we didn't see a penny of it… 
"But college sports have such a huge audience. The players' talent and dedication, it's just incredible. They deserve to be rewarded for that, but they also deserve guidance and honesty. Like, what if a tobacco company wants to sponsor them? What if an alcohol company does? Where do they draw the line? They deserve people to help them learn how to navigate all that along the way, because that's also part of their education."
How Ally Courtnall Finds a Work-Life Balance
As for Courtnall, she's finding a big part of her post-college education is shifting her mindset from field goals into life goals. "When you're an athlete, you have a winner-take-all mentality. You have to! But life has more grey areas," she says. "It's taken a long time to shake that perfectionist streak I have, and realize that sometimes when you 'lose' something, it's actually a win because of what you learn and how you grow. 
"As I keep modeling and finding new ways to build my personal platform, I want to help other women find that balance, because it's what keeps you thriving without being burned out. But yes," she says, "I will also help you find a really good swimsuit!"
Click here to see more of Ally Courtnall.