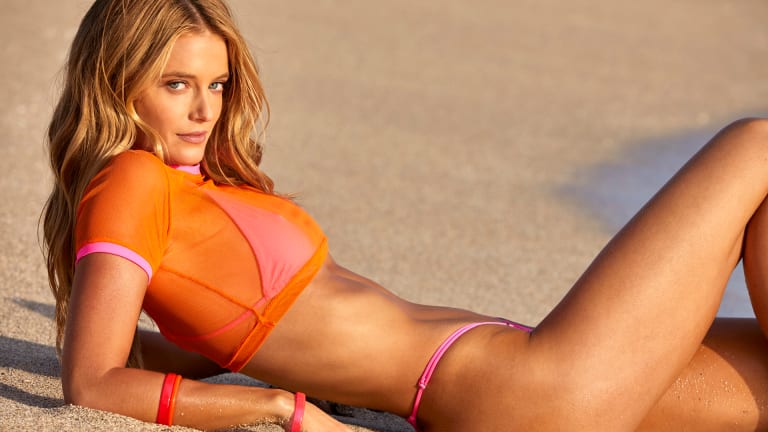 Kate Bock Is Coming for Mark Cuban's Job
Kate Bock is a Sports Illustrated Swimsuit Issue model, but she's also making a name for herself as a lifestyle entrepreneur, with investments in everything from hard sparkling water to nut butter and beauty websites. Her next stop? Beating Mark Cuban at his own Shark Tank game.
Kate Bock: Model to Mogul
It's not a far cry from model to mogul—just ask Kate Bock. The Canadian blonde starred on 2020's Sports Illustrated Swimsuit Issue cover and currently appears in the 2021 issue. But when she's not wearing bikinis (and sometimes when she is), Bock is studying the financial markets, reading up on brand strategies, and plotting to take a seat in the Shark Tank.
"I watch that show 24/7," says Bock. "I'm very invested in all the brands—how they're doing, who's mentoring them. I think I agree with Mark Cuban the most, in terms of the advice he gives and the businesses he chooses, but I also want to beat him!" She laughs. "I want to go on Shark Tank and take the businesses he wants and turn them into successes myself. I think entrepreneurship is something every woman should know about because it's such a powerful way for us to help create the future… And I think Mark Cuban and Mr. Wonderful should know we're coming into that financial space, and we're playing to win."
Kate Bock Works With Small Businesses
Bock already has a budding portfolio of small businesses—including the hard sparkling water brand Pompette and Abby's Better nut butters, which was created by a teenage girl. ("When I was her age, I was modeling in the Abercrombie Kids catalogue," Bock says. "But she's building a food brand!") She's also collaborating with the nail company 10 Over 10 and the online marketplace Verishop. "I think it's so weird to see stories like, 'Get Kate Bock's Look' that don't actually say what I'm wearing!" she says. "So I searched for a platform that lets me share exactly what I'm using in my hair, or wearing, and shows people exactly where to get it. I mean, nobody should have to do some epic search for my curling iron!"
But will she do an epic search for Mark Cuban? "Wellllll," she laughs. "The thing is, I'm not a Dallas Mavericks fan. I'm a Cleveland Cavaliers fan!" (Bock's fiancé Kevin Love is currently on the team.) "But we're in the same place at the same time occasionally. We run in the same circles, I guess. Or no. Not the same circles. But definitely the same sports stadiums."
Click here to see more of Kate Bock.