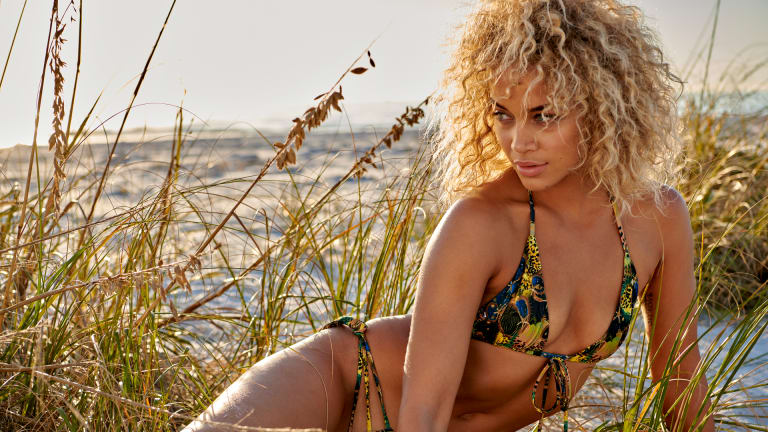 Is Jasmine Sanders the New Tyra Banks?
After Jasmine Sanders ("Golden Barbie") starred on the cover of the 2020 Sports Illustrated Swimsuit Issue, she got a new job: mentoring the S.I. swimsuit rookies, and teaching them everything from how to get sand out of your bed to how to look confident even when you're not.
Jasmine Sanders Is a Mentor for Rookie Models
For years, Tyra Banks asked new models, "You wanna be on top?" As the host and mentor of America's Next Top Model, the Sports Illustrated Swimsuit icon guided dozens of models, including fashion sensation Winnie Harlow, through their early careers. But thanks to the Sports Illustrated Swimsuit rookies, it might be Jasmine Sanders' turn to run "model university."
"I didn't set out to be a 'model teacher' but it turns out, I love it!" said the 30-year-old at the Sports Illustrated Swimsuit Issue launch party. "MJ Day reached out to me, and she asked, 'Hey, would you ever want to come and mentor the rookies and be a part of the shoot?' I hopped on the first plane to Atlantic City! 
"It's one thing to be a model and learn that knowledge for yourself," she explained. "But when those skills let you help other women at the beginning of their careers, that's when you know it really matters. Because the truth is, your first swimwear shoot can be really emotional! You're scared, you're excited, you're crying happy tears even though they just fixed your mascara!" she laughed. "So I wanted to make it a bit easier for the next lady coming through."
What Is Jasmine Sanders' Advice to New Models? 
What is Jasmine Sanders' advice to new models? "Don't touch your hair!" she exclaimed. "If you're posing on a beach, your hands will get wet and they will get sandy. The second you put your hands in your hair, boom, you will have sand in your hair for days. Plus, your curls will get damaged. As a swimsuit model, we're up at 4 A.M. or earlier to get our hair and makeup done before the really good sunlight hits the beach. Don't ruin it by grabbing your hair."
Sanders' other big advice to models? "Your life is going to get so hectic that you need a routine you can do, no matter where you are. It's going to sound so weird, but you need to make an appointment with yourself every day to go outside. Look at the sky, be part of the world, no matter how hard you're working… Oh, and always have a sand bucket on set."
A sand bucket?
"Yeah," she grinned. "It's these giant buckets of water they keep on the Sports Illustrated Swimsuit sets. They're supposed to help your skin glisten and wash off the sand, but it's actually really refreshing getting splashed with water. It's a little bit of a wake-up call! And I'm not gonna lie, sometimes in real life, I'm like, 'I need a sand bucket. I need to get drenched and then start over.' Everyone does sometimes!"
Click here to see more of Jasmine Sanders, Leyna Bloom and Tyra Banks.